Does the Old Spice Guy Have What it Takes?
Published by
Starr Rhett
on Friday, February 26, 2010 at 11:00 am.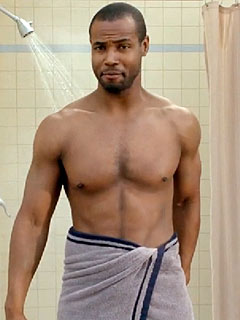 This foine specimen has been the topic of conversation all over the web and in real life ever since his Old Spice commercial launched online, February 4. The LA Times did some investigating and got the goods. His name is Isaiah Mustafa, he's 36 and you have seen him on TV before. He played bit parts like a bailiff on Ugly Betty, a cop on Days of Our Lives and most recently, a small role on ABC's Castle. However, since appearing in the Old Spice commercial, which now has nearly 2.9 million views, he has confirmed that more opportunities for work are coming in but wasn't specific so we'll have to wait and see.
Here are some other cool facts they discovered about Mustafa:
-Studied history at Arizona State.
-Played four years in the NFL as a wide receiver.
-In his mid-20s, he opened a barbecue place but after a while, he realized he did not enjoy the restaurant business.
-He is not single. In fact, his girlfriend is a professional dancer (sorry guys and gals).
I did some e-stalking of my own and discovered that he will be on The Ellen DeGeneres Show next week. I didn't find out when, but you can keep up with what he's doing via his Twitter page.
And for those of you who haven't seen the commercial, I don't know what cave you've been living in but check it out below (or watch it again for the umpteenth time if you have seen it):