50 Cent Hates Nas, Hearts Kanye, and Destroys Young Buck….
November 20th, 2008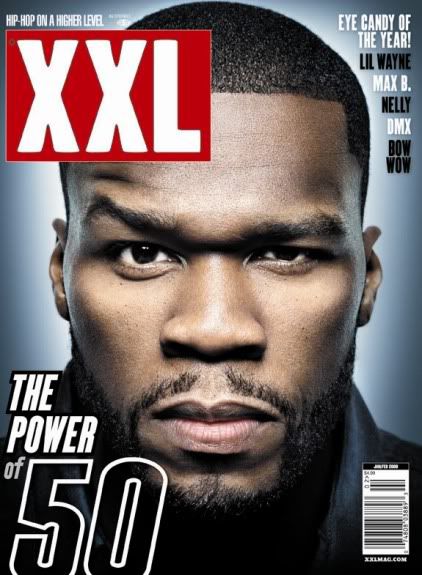 And it starts……… I don't know if this was a coincidence or what, but moments before I copped the December/January issue of XXL Magazine, I received an email blast about 50 gracing the cover. Usually when I get these types of emails, the issue won't hit newsstands until later that week, but surprisingly, as I was walking home in the DEAD of winter last night, I saw the issue at one of my bootleg Magazine shops (you know the magazine stands that get the issues 2 weeks before they're released) and scooped that bad boy right up.
As always, Fif had some interesting words for his usual targets; Kanye West, Nasir Jones, Fat Joe and Young Buck. I haven't seen these blurbs anywhere else on the net, so scroll down and dissect Fiddy's latest ramblings….
On not starting beef this album release…

"I didn't set it up. I didn't set it up none of those times. You think I asked for the disrespect from Fat Joe on Rap City? That's what restarted everything. And, later on, I think he acknowledged it. Later on, he said, "Yo, they threw some shit at me that he said a while back." And he responded aggressively. And me, I'm like, where the f*k is this coming from? I'm not even thinking about him right now."
On not responding to Nas's, "Queens Get Money"….

"Man, Nas is cold as ice. Nas is the block of ice that sunk the Titanic…..I didn't even hear his record. I didn't even hear the record you're talking about. I really don't want to talk about Nas. I think he's at one of those points to where his career's finished, to be honest. He's had some great moments and made good music in the past, but he no longer has the interest of the general public or myself."





On Kanye's 808's and Heartbreak…
"I enjoyed his other records since hearing "Love Lockdown." He impressed me. "Heartless" and "Coldest Winter." And he might actually be right; this might be the album that I really like from him. When he said it, he was probably being a little humorous, but he got some balls, man. He's willing to go head and make and R&B album. That's a lot. He could not recover from this…..I think that's cool, if your fans will permit you to be creative in that way. From a business perspective, you gotta offer what performs. The public will tell me that Curtis is a failure. And I sold 700,000 copies the first week. So what do I gotta do? Reach a million, at minimum??"
On why he released the Young Buck conversation
"I already saw who Buck was. And I see that he was gonna continuously be that, and that wasn't gonna be healthy for either one of us. So its better to destroy him then destroy both of us. They type of person he is- spontaneous and impulsive, and then you add addiction to it- you got someone who is in a real destructive space. So I can't allow me or my business to be damaged in any way!"
Ahh, it's always refreshing to rifle through the mind of Curtis Jackson. I'm surprised at his tone towards Kanye's 808's & Heartbreak. But, I'm not surprised about his feelings towards Nasir; I guess those two will NEVER get along (tear, lol). As for Young Buck….such a sad case. Anyway, for the complete story, pick up a copy….trust me, it's WORTH the journey..even though the wind WILL smack you harder than Maino did Yung Berg (ok ok, sorry, sheesh!)
Sincerely
Low "Fiddy must be salty since Nas dissed him in the mathematical sense on "Queens Get The Money" Key