50 Cent Praises Diddy For Maintaining Relevance…..
February 24th, 2009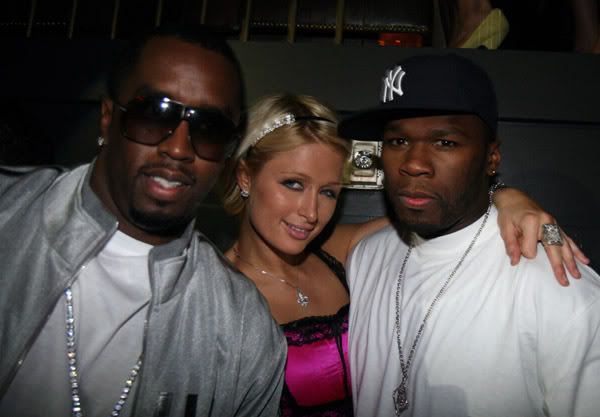 Awwww, 50 Loves Diddy….. So, I emancipated the new issue of King Magazine from my secret newsstand several days ago, but I'm just dissecting the issue today (Yes, I know I'm late). Anyway, since I was stepping out to the pizza parlor for lunch today, I decided to search through the issue while I made love to two slices of pepperoni pizza (not a pretty sight, but I was hungry lol).
Of course, I drooled over the superb photography of the past 50 issues (they're celebrating The Big 50 this issue) and decided which one I would get detained by the authorities for stalking (it's a tie between Dollica Bryan and Porschla Coleman), but I also noticed an exceptional piece on 50 Cent written by Adam Matthews.
In the article, 50 touches on the severity of the U.S. economy, his career as an actor, retiring from the rap game, and his perception of wealth and how it's been altered over the past few years. But before closing out, Fif also offered his perspective on who possesses the best model for staying relevant in the game. Read who he picked, below…..
50 Cent on who has the best model for staying relevant……
"Puffy has the best model for staying relevant, because he does it without a song. He's been able to maintain an interest and stay in a space to executive produce television projects and stay relevant to hip hop culture. What was the last record that made you feel like, "Oh my god, Puffy is on fire?" You don't need it. That's what makes his business model exciting for me. There are only three of us to look at: Jay, me, and Puff. We have three totally different situations. We've just been a part of hip hop culture. That's the similarity. I just think they're the fire hydrant: You can't move those guys off the street. I think they'll still be the guys you need to connect with in the next few years to get a shot."
Well put, Fif. Now, here's my question to you guys: Outside of them, because I do believe there will be several others who have the ability to achieve the same relevance, who else will be able to maintain the same feat Puff's been able to accomplish thus far??? Rappers, Producers, Singers….WHO????????
SOUND OFFF……PLEASE!
Sincerely
Low "Rest assured, I may sh*t on Puff from time to time, but the big homey handles his business" Key