B.E.T. You Haven't Heard This: Bow Wow & Jermaine Dupri
January 1st, 2009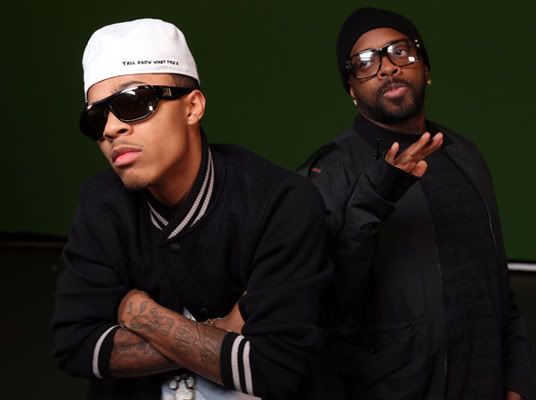 Best Friends Forever!
If I don't say anything nice about these two, I must admit they definitely ride for each other to the death. JD's molded the lil pup into what he is today and Bow's made him a sh*t load of money, which is pretty awesome.
"Roc Da Mic" the first single from Bow's seventh solo effort, New Jack City Pt.2, channels both JD and Bow Wow basically explaining the ins and outs of their relationship over the past 8 years. I remember several months back, both JD and Bow explained the concept of the tune, but I couldn't find the time to get to it. Check out what both of the So So Def'ers had to say about "Roc Da Mic".
Says Jermaine Dupri,
"The song is basically about how me and Bow Wow's relationship went from him as a child and me creating him to growing up, branching out wanting to do things on his own. I guess me being an adult and not understanding him, I'm grown enough to say that I didn't understand him so I couldn't understand him wanting to go out and do certain things and him not understanding me wanting him to do other things, so we bumped heads as he got older. When he went to the project with Omarion, I basically quit that project because he pissed me off [laughs] and we had our times right then; there were other times before on a couple of other albums."
Says Bow Wow,
"I be tellin Jermaine some ideas for like music, but he'll try and brush it off. I'm like, 'Yo, since people say we're just alike, we should do a song' and he's always like 'Nah, nah'. Knowing JD's process, if you tell him something, he's thinking of what you're saying at that moment, but he's not going to give you his right answer. But what he really wanted to say at that time is, 'Damn you right, I'm about to go do that'. So later on, he called me and told me to swing to the crib and he played me the record which was crazy. I'm like, 'Man, I told you, we should've been did this record' and he said, 'Nah, nah but this is it'."
Awwwww, ADORABLE! Lol
Bow Wow ft. Jermaine Dupri- Roc Da Mic (Produced By Jermaine Dupri)

Like it, Love it Or Leave it?????
Sidenote: Bow and JD recently wrapped up the visual for "Roc Da Mic" which was directed by Hype Williams and shot in Malibu as well as Los Angeles. Check out these hot photos, RIGHT HERE!
Sincerely
Low "HAPPY NEW YEAR EVERYONE" Key