B.E.T. You Haven't Heard This: LL Cool J & The Dream
June 12th, 2008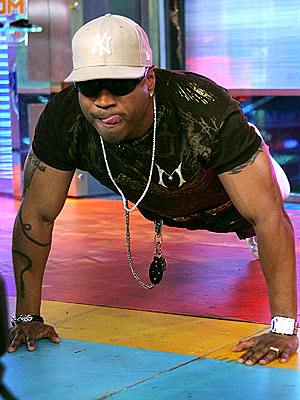 *Disclaimer* I picked that picture SPECIFICALLY for my lady readers!
Alright, let's get down to business. After several years of hiding or doing whatever it is he was doing, Ladies Loves Cool James has OFFICIALLY made his return. Exit 13, his last body of work on the label he helped build, is set to release August 5th and his first offering, "Baby", featuring The Dream, is…well, A BANGER!
Off the first listen, I was hooked. I was on the bus singing the hook, on the subway singing the hook, and I'm singing the hook right now as I type to you. The Dream enhances it's ambiance which makes this the IDEAL summer tune. I'm telling you guys right now, this might have a good chance at being the one of those summer anthems. Ummm, of course this is brought to you by the good people (LowKey) over at B.E.T. You Haven't Heard This 
I shouldn't even ask this question, but I'm sure someone isn't going to dig this as much as I am, sooooo….
Like it, Love it or Leave it??? I advise you to choose one of the first two lol…
Sincerely
Low "Glad to have you back Mr. Smith" Key