B.E.T. You Haven't Heard This: Usher & Jamie Foxx
November 13th, 2008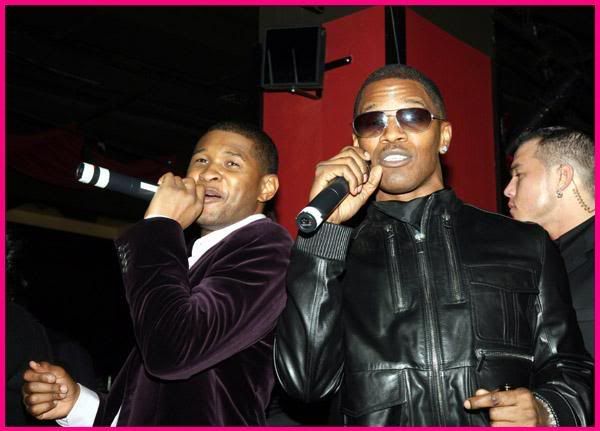 Usher……….Jamie Foxx………Great R&B! Since I hate sitting on music, I felt it was only right to distribute my latest findings in a nice little package, specifically for my female readers (don't worry fellas, I got something for you later today). Ever since Neyo gave Usher that stern talking to about how much Here I Stand sucked (Oh relax, I'm just joking…halfway), Usher's been releasing different material….far from the sound on Here I Stand. Either Ursh is prepping the masses for his new style, or someone is leaking homey's music (no not me…).
"Off Your Chest", produced by Jimmy Jam & Terry Lewis, sounded a bit edgy at first, and I even thought it was going to be a record talking ish about other R&B singers, but it's far from that.
Meanwhile, over in Jamie's studio, the mood on his track, "Rainman" takes you down about 60 notches from what Usher had already established. Foxx is obviously missing his significant other, and does a pretty good job conveying how heartbroken he really is. Yes, I feel you Jamie…..it rains endlessly when shorty doo wop isn't around, *sings the chorus of "Rainman" on top of desk after turning on the office sprinkler system for dramatic effect*.
I'm assuming this track will be on Jamie's new album, "Man's Intuition" which hits stores December 16.
Usher- Off Your Chest |Prod. By Jimmy Jam & Terry Lewis|
Wellllll, Like em, Love em or Leave em?????
Sincerely
Low "Everyday it raaaaaaaaaaaaaaaaaaaaaaaaaaaains" Key