First Time Experience: Lil Wayne's "Prom Queen"……
January 26th, 2009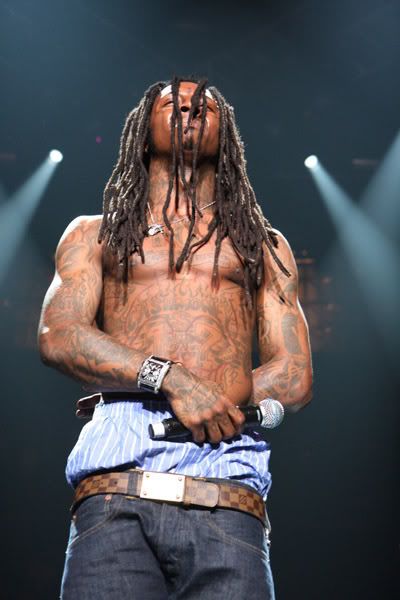 Sighs…….. Alright, so the last time I live blogged while listening to a new song, Ciara was basking in the glory of a new found love that she just couldn't get enough of. I figured, live blogging for a premiere single would draw more commentary and it would show you fellow followers what I REALLY thought about the material I was posting.
In the end, I appreciated Ciara and Jeezy's effort and still do till this day. My next victim experiment is Wayne's new "rock" single, "Prom Queen". After hearing about Mr. Carter's rock aspirations I thought, well Kanye's getting his Al B. Sure on, why not let Weezy get his Kid Rock on.
I kind of sensed he was going left when every performance I saw of him in the past 24 months came with fingerless gloves and some sort of guitar in which he would actually PRACTICE during his LIVE performances. So far, the response to "Prom Queen" has been….well….distasteful, to say the least. (lol). So, without further ado I present the first time listen to "Prom Queen". Oh by the way, you can purchase (PAH! Who purchases music?) on iTunes Tuesday, January 27.
00:06- Ahhh, a very delicate melody to begin the festivities, this might not be that bad after all….
00:21- At what point did Mr. Carter think this would be ok?
00:45- No, no, no, no…..YOU LEAVE THE AUTO TUNE ALONE!
01:34- Did this fool just burp????
02:08- So the "Prom Queen" turned him down?
02:44- If you been to any of Lil Wayne's show, you know DAMN WELL that's not him playing ANY OF THOSE NOTES!
03:00-*Opens Pro Tools, lifts Lil Wayne's ad-libs, and loops 02:42-03:08*
03:16- Is that Nicky Minaj???? Damn, she's even hot garbage on a rock song……
03:37-*Bares the look of Mortification for Universal Records*
Verdict- *Deletes from Hard Drive*
Like It, Love It or Leave It???
Sincerely
Low "Whewwwwwwwwwww, I can't wait to see the reactions to this ish" Key