Jimmy & Cam'ron Robbed By Jay-Z and Kanye West????
November 19th, 2008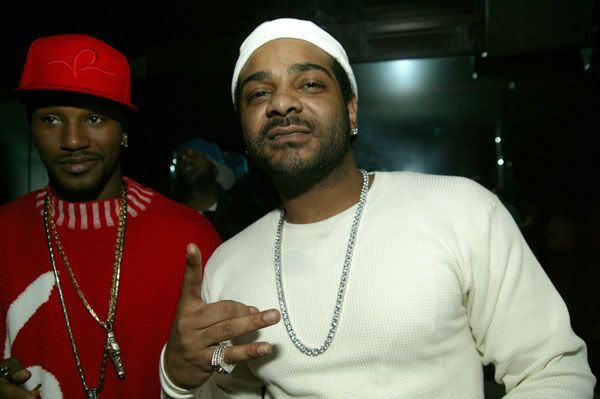 Jimmy and Cam claiming foul play by Jay-Z and Kanye?? THEY SURE ARE! 
I swear, this stuff gets better by the day. So I'm rifling through the internets and I saw this link to a Jim Jones interview over at the Complex residence. Since Jimmy's commentary keeps me LMAO'ing all day everyday, I bolted over to see what he was pissed about this time. Booooooooooy, was I in for a treat.
Apparently, Jay's monster hit, "I.Z.Z.O" (you know, H to the Izzo, V to the Izza…that joint) from the The Blueprint was, get this, STOLEN, because it was originally intended for, get this again, Cam'ron and Jim Jones (holds in laughter…holding…holding). That's not even the worst part, the method in which they found out will have you in tears, literally….I'm still wiping mine off my face from 30 minutes ago.
Says Jimmy, "Kanye came to our studio session at Sony, and he was playing some beats back when we were all signed to Rocafella. Cam was about to come out with Come Home With Me, so we told Kanye we wanted to buy the song "H to the Izzo." It was an understanding we had between us and Kanye because we were all under the same label. So then, I'll never forget it, we're at Cam's house and this hip-hop award show comes on [BET Awards, 2001], and Cam and I are watching it on his couch, and we're like, "Next year we're gonna be up there." So they announce that Jay-Z is about to perform his new single off The Blueprint, and the dude comes out with the "H to the Izzo" beat. Cam and I look at each other like, Oh, we're going to kill Kanye. Oh my God, when we catch this nigga,we're going to do something terrible to him. And that's how Cam ended up getting the "Down and Out" beat. Kanye gave it to him free of charge as payback."
 Wait, wait, wait, on top of WATCHING your boss perform your "potential" hit on your best friends couch (lol)……..you're telling me in exchange for Kanye giving "Izzo" away on some shady ish, he then gives you "Down and Out" for free? Maaaaaaaaaan, I would've done the same thing…..that beat is as normal as this white thermal I'm wearing! Now if he really wanted to repay you, he would've slid you Scarface's, "Guess Who's Back" or Talib's, "Get By" not "Down and Out". Now I know why Jimmy hates Ye…he sabotaged Cam's recording career right under their noses. After "Down and Out", Cam hasn't been the same since, lol!
For the entire interview, and believe me, you DON'T wanna miss this ish, CLICK HERE…NOW! 
Sincerely
Low "Ahhahahhahahahahahahah, I'm still laughing if you haven't noticed" Key