Kanye West Scores VIBE Magazine's February Cover
January 8th, 2009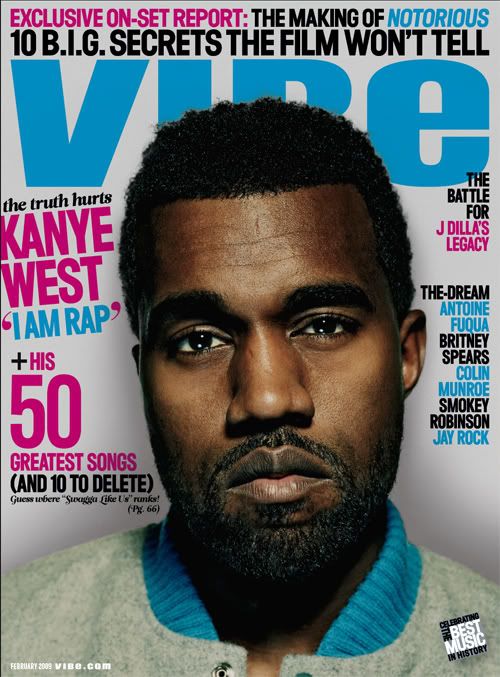 Kanye + VIBE=  Awesome WORDS! The one thing I hate about the holidays is that the publication schedule for all my favorite magazines are a bit delayed. They release their year end issues and then disappear for an extra several weeks to, dare I say, celebrate the holidays (what the hell is that about, lol).
Anyway, on my way to work, I sensed a new issue of at least ONE of my favorite magz would be up for sale and you know what….I WAS RIGHT! I remember breezing past VIBE.com yesterday catching a brief glimpse of them teasing us with some Kanye banter about how he's preparing to grace their February issue. "YES", I shouted as I read through the info. "I love Kanye cover stories". However, the actual cover wasn't ready for public viewing. DRATS.
I slid inside the newsstand (secret location newsstand, that is) copped the mag and began to eagerly rifle through the issue. "Dope. Ooooo, she's sexy. Who the hell is that?" I said to myself on the uptown A train while while an older Caucasian female secretly peaked over my shoulder. I honestly believe she was more excited than I was. I didn't mind not one bit because she knew I knew she was looking, so it was cool lol.
"Pride" (In The Name Of Love) read the title in black Lego font. The big homey Sean Fennessey got the honors to talk to Yeezy and I must say………GREAT JOB, SF. And since I believe I have the magazine a tad bit early (the covers not even out for Christ sake), I'm only going to hit you guys with 3 good excerpts from the piece. Trust me, you won't be disappointed. ENJOY
Kanye on being deemed a violent person because of his paparazzi experience…
"I haven't done anything violent. They make it seem like I actually went and hit the paparazzi. I haven't. I was restrained. I'm good at restraining myself from committing violent acts. I know how to control my temper. That one paparazzo made it a bigger deal. I just put my hand up and he felt like he had more right to my personal space than I did. I put my hand up to stop him from shooting me."
Kanye on putting out 808's & Heartbreak so quickly…..
"I could have put it out as a mixtape. I always wanted to do a mixtape called T-Pain Style. And I was like, if these songs are good as hell, why not put it out as a real album? And who's to say what a mixtape , what's an album. I aint have to drop an album either. What I do at this point is a gift. And I think people are complaining about their gift. They can either play with it or not! But don't complain to me about the gift. There's guys out there, nobody spoke on our behalf before. Whatever about the singing. F*ck all the singing, f*ck all the Auto-Tune, f*ck the He's A Rapper, he's not a rapper, he's going through something, he has to get this out of his system, he's crazy. F*ck all that. It's men out there who have never had anyone to speak on their behalf about the way they feel in a relationship. We don't feel like, 'F*ck you, bitch, I'm going to f*ck a whole bunch of girls'. NO! We feel hurt. We feel pain. Like, 'Damn, why would you say something like that to me? Damn, I LOVE YOU. Damn, I want to have a family. Damn, I want to find someone to raise my kids. Damn, my baby mama's a bitch. Or she's not a bitch'. That more than anything-more than the way I wanted to deliver this art-is the message behind 808's."
Kanye on 808's being his best album…..
"I do think it's my best album to date. No, I actually know this is my best album to date. Do I think it will be my best album ever? No, Ill improve. Do I think there are mistakes in it? Yes. There has to be. I'm a human being. But I think it surpasses Graduation. These 12 tracks are going to resonate more than any 12 tracks of any album this year."
Ok, that's enough. For the rest of Sean F's exclusive interview with Kanye, make sure you pick up the February issue of VIBE Magazine when it either officially drops or if you can locate my secret location newsstand, lol!
Sincerely
Low "During this post, I zoned out to ALLL Kanye instrumentals. Damn that boy is good, lol" Key