Keyshia Cole Covers VIBE's Style Issue
February 1st, 2009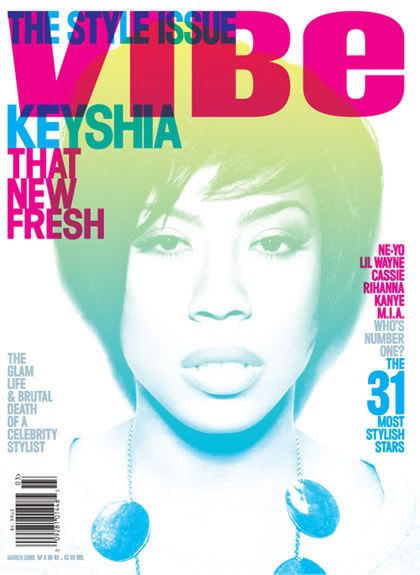 Someone at VIBE is going to KILL ME! This would've been up on Friday, but one of my co-workers decided it would be adorable to emancipate the magazine from my desk without informing me of her actions. And then, DROP IT OFF 10 minutes before I left for the day. But she gets mad at me when I put my fingers in her face….GO FIGURE!
Anyway, if you frequent these parts, then you're pretty familiar with my magazine game; I GETZ THEM EARLY, LOL! This time, I didn't hit my secret newsstand, I actually swiped it from an associate at an event several days ago. Since this issue doesn't hit stores until February 17, I think I'm WAAAY ahead of the game with this issue. Others may have it (VIBE employees), but like always, your exclusive preview is available here……..FIRST!
Looks like VIBE is on that fresh sh*t because all the contents in this issue are geared towards the fresh and the FRESH ONLY. The Evolution of Andre Benjamin: FRESH! The White Tee: ReFRESHing! The Tattoo: SEXY FRESH! Terrence Dean breaks down The J-Sette (the dance routine seen in Beyonce's, "Single Ladies" visual), while Memsor Kamarake rebirths and re-styles "The Black Model".
Of course, an issue on Style wouldn't be complete without the 31 Most Stylish individuals in the game. And since I'm not THAT much into the style realm, I'm not sure how valid these rankings are. Now I could sit here and reveal the entire list, but that would probably piss off B.W., D.Smith and the homey J.Cummings, so I'll just list a couple names sans their rankings. Also, this list isn't in any particular order, I'm just randomly naming the participants involved; Troy Polamalu (Pittsburgh Steelers), Kanye West, Alain "A-Trak" Macklovitch, Yung Dro, Vashti Kola (IM GOING TO MARRY HER), Wale, Solange, Lil Wayne, Rihanna, Travis McCoy, Keri Hilson, Estelle, Neyo, MIA, and many more!
Oh, and I can't forget the cover girl herself, Keyshia Cole. This isn't one those interviews (where's your life at now, how is Young Jeezy doing, is your show scripted), this is a FRESH interview. Keyshia discusses the evolution of her style, the influences that make up her style and where she's headed (style wise). Check out what she had to say……
Keyshia Cole on developing into the person she is now….
"I used to be real passive, no matter what it was–my performing, everyday living, a man, family. Now, it's like I've got to put my foot down. I've come too far to keep accepting a lot of anything. I'm comfortable with myself."
Keyshia Cole on her mother influencing her style…..
"Not necessarily, because my mom…..it depends. [My adoptive mother]Yvonne Cole, definitely. Definitely more than my biological mother because while I was around my mother my entire life, she was really gone. I'd see her, I would find her and in the next 10 minutes she would be gone. She was constantly moving. But Yvonne taught me everything about being a woman that I need to know. Everything. Don't go to church without a slip. All of that."
Think you feel fresh now, wait until you devour the entire issue. Once again, VIBE Magazine proves why they're always one step ahead. (WHAD UP DANNY?).
Sincerely
Low "I'm So Dope Boy Fresh…I Think" Key