Lil Wayne Vs. 50 Cent Round 1
November 27th, 2008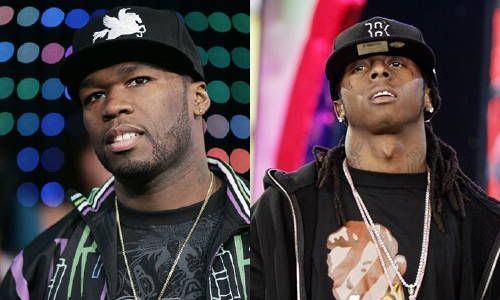 To beef or not to beef….that is the question!Well, well and well…look what we have here. The Martian finally decided to come out and play the "dissing" game with 50 Cent. Now, since the arrival of this lil diss record, if you would like to call it that, a couple of things have surfaced in my tiny little nogen; 1.) Why is this coming out so late?
Oh, I know, because it wasn't OFFICIALLY released by the "Rapper Eater", this derives from a mixtape which boasts a bunch of previously recorded material. Now hold on, I know what you're thinking; "Yeah, but he still dissed him". And though that notion may be correct, the aforementioned diss wasn't properly executed.
I even remember Weezy saying he didn't want any problems with the G-Unit boss and this was directly after 50 issued a stern warning of, "My consistency will break Lil Wayne's neck like LL did Canibus".
Now, was this record recorded right after that sentiment was shared with the world? Possibly, but I do think Wayne is a tad bit smarter than he's perceived. If he were to really diss Mr. Jackson, it would've been much more lethal than what we are hearing at the current moment. "All about a dollar, F two quarters/B*tch I'll pour syrup in that Vitamin Water". Ooooooo!
Yeah that two quarter line was harsh, but he follows up with offering 50 a helping of his Syrup lol? My point surrounding this whole issue is the diss was ill-delivered. It wasn't calculated, it wasn't thought out and it damn sure wasn't anything mind blowing. I can understand the shock value of "Lil Wayne Vs. 50 Cent" might be monumental, but to those that know the facts surrounding this issue; let's be a lil smarter on this one.
We know the game and how certain individuals move. With this circulating the internets, 50 might actually take offense to the quick jab and really "break Wayne's neck", hence causing some unnecessary tension between the two titans. But hey, that's what hip hop thrives off of; healthy competition, right? I guess…or whatever lol. Happy Thanksgiving boys and girls!!
Lil Wayne ft. Lil Boose- Louisianimal (50 Cent Diss??)

Alright…..TIME TO DISCUSS!
Sincerely
Low "Do we really need a Wayne/50 battle right now?" Key