Oh 50…
March 20th, 2008
As if we weren't going to hear from Mr. Curtis "Interscope" Jackson when Fat Joe's SoundScan numbers were released. In 50 fashion, a mock video surfaced on his community based website ThisIs50.Com, sending off, in what appears to be, Fat Joe's recording career.
Teary-eyed and all, 50 begins the video with clips from a funeral (unrelated to Fat Joe in any way, just a couple of random clips) and the sounds of the trumpets playing "Taps," the haunting but famous musical piece played during Military funerals in memory of a fallen solider. 50's face is shown between each clip. "Fat Joe has passed away, his SoundScan came out. He only sold like, 46,000 copies," 50 sobbed.
50 even took time to shoot some praise towards Rick Ross for his recent Billboard success, but also issues a semi warning in regards to his close relationship with the Bronx Bomber. "That's when you know you're not relevant when you got artists like…(long pause)…Ricky Ross….The BOSS! The Boss is out there looking real good coming in there with that #1 album. He's from that same little pocket out there in Miami. But he shouldn't stand next to that fat piece of s*it because you know how I get (starts to throw punches at the camera). You know how I get, right???? Yeah, you know (points to camera)."
Following the enormous digital success to their last mixtape (400,000 copies of Elephant In The Sand were downloaded from ThisIs50.Com), 50 and his comrades are already prepping another follow up entitled, Return Of The Body Snatchers Vol 2.5: Elephant In The Sand & Friends. Peep the cover below!
Is 50 going over board with his "Elephant In The Sand" antics, or is this just a couple rounds of healthy competition? SOUND OFF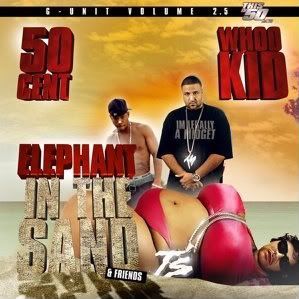 -LowKey