On Location: 50 Cent's Exclusive Cabo Performance
November 10th, 2008

24 Hours……50 Cent…….Video Games…..Cabo San Lucas…..Ahhhhhh Man!
You know what, I'm going out on a limb here…..after watching Barack snatch the 44th president slot right from under the republicans tight grip, I thought to myself, "Wow, that man is having the best week ever". But then I took a step back, really evaluated the journey I was about to embark and said, "Nah, my president's black, I went to Cabo for WORK and the Giants beat the Eagles 36-31″ Yeah, I think LowKey is having the BEST WEEK EVER!
Since I received the notice for 50's 24 hour excursion two weeks ago, I've been itching to hit Mexico's soil. Kendra, an Interscope Records rep, gave me the logistics regarding the trip and before she could even finish explaining, I was already picking out my outfit for the festivities. They put us up in a Hilton Resort RIGHT on the beach, which made my life a living hell since I had to leave the very next day. No worries, I purchased an ice cold Pina Colada, took a stroll down to the water and just CHILLED…AHHHH PARADISE!
After 3 PC's, we hopped in the designated trucks and slid to the designated destination. See, E! (the network) is putting together a reality show where their interns will be charged with organizing a special 50 Cent event for 60 key invited taste makers, bloggers, DJ's, contest winners, etc. The concept of the show is based around a bunch of interns who work for E! and LG that are trying to break in to the entertainment industry.
Once we got to the venue, there was a red carpet set up for the attendees to walk on and of course my simple behind had to act like common sense was a thing of the past. Regardless, I held my composure and kept it cool during the evening. We played Fif's new "Blood In The Sand" video game on XBox (I had no clue what was going on), tasted some very exotic hors d'oeuvres and conducted a fair share of flirting. After the G-Unit boys showed up, things got extremely interesting. 50 spent playing, "Blood in the Sand" with Hof from OnSmash.Com, Yayo joked around with Hot 97's, Miss Info, DJ Kast One and DJ Self kept cracking up at god knows what, Banks entertained a flirtatious female's banter which commenced with the phrase, "You make me excited and I don't know why."
After a quick performance, we hit a private screening to view Fif's directorial debut, "Before I Self-Destruct". The movie will be packaged with the album as well. Once that was concluded, well, what happens in Cabo, stays in Cabo. Enjoy these dope flicks and Fif's performance of "Get Up" at the party, below (Good looks, Info)!
Big shouts to Miss Info, DJ Kast One, Nelson from G-Unit, Jackpot, HOF (You two are CRAZY), Jermaine Hall, Vanessa Satten, DJ Self and everyone else who made the trip fun!
Sincerely
Low "There's nothing like 24 hours in Cabo, TRUST ME" Key

50 makes his entrance…..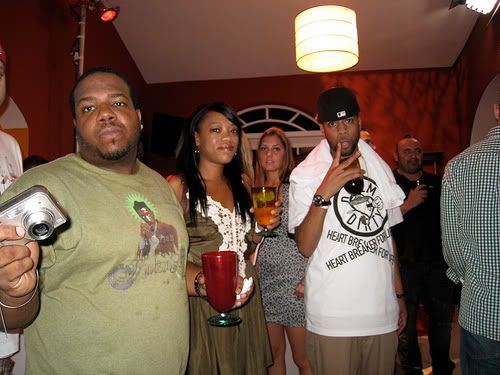 Steve Raze (L-Allhiphop.Com), Kendra Ellis (C-Interscope Records) and LowKey (R-BET.com)

Tony Yayo and Miss Info get comfy for the camera!

50 Cent and HOF from OnSmash.Com enjoy a game of "Blood In The Sand"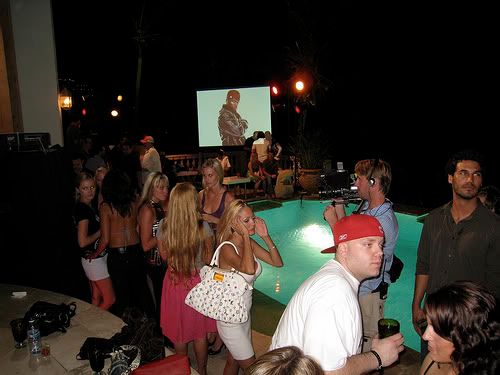 The Party……
50 Cent performs, "Get Up" in Cabo San Lucas on November 6, 2008