On Location: Paper Trail Album Release Concert
October 1st, 2008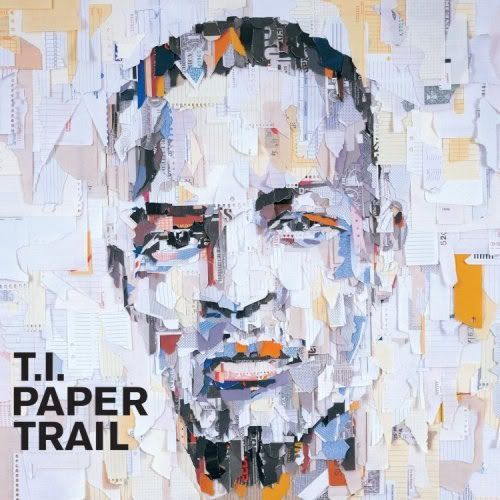 T.I. brings em out for album release concert! Cab ride to Highline Ballroom:$ 9.28
Tickets to show: $50.00
Looking at a line wrapped around the block knowing you don't have to wait in it: Priceless!
There are some things money can buy, and in this case Master Card or my green pesos wasn't one of them, lol
Fortunately, I have the type of job where if I find out about an event the day of, there's a 90 % chance I'll find a way to attend, and T.I.'s, Paper Trail Album release concert was a prime example. Oddly enough, I was told by someone that the performance was last week, but my industry gut told me to check other sources. Sure enough, the show was less than 3 hours away. Ready, set, SCRAMBLE! I hopped on my BB and sent out an S.O.S to everyone and anyone. 20 minutes later, Mission: Accomplished.
I landed on 16 and 9th about 30 minutes after the doors were set to open, and unfortunately I was greeted by this absurd line that wrapped around the block. From a birds eye view, it sort of looked like a python; moving extremely slow through a grassy knoll. Once again, Somwya, who surprisingly, hates lines more than I do, went straight to the front. While she continued to spew fire into the ear of one of venue's security officers, my man Niles, who's also Maino's tour DJ, informed us when Hot 97's Bobby Trends arrives, we'll just go in with him. 15 minutes later, Trends touches down and our access is granted!
Extremely intimate, the Highline Ballroom was smaller than expected. Paper Trail promo posters were plastered across the bars and railings, upstairs and down. Cipha Sounds kept the crowed entertained before Maino, the opening act, hit the stage. While the audience seemed stiff at first, Cipha's musical selection easily broke the ice. For a split second, it seemed as though the NYPD was on the verge of shutting down the concert judging by Cipha's commentary. "Chill yall, chill the NYPD is in the building" Cipha yelled. An obvious joke, Ciph then segued into Wayne's, "Ms Officer". He screamed to the fellas "The only time you should be talking to a cop is if you're f@cking her". SMH!
Maino took to the stage with as much energy as he could. The Hood DvD star performed several cuts from his album and his remix verse from Shawty Lo's, "Dey Know". The big homey, Sha Reid from MTV leaned over and asked,"How he gonna perform a Shawty Lo song at a T.I. show"….my thoughts exactly, Sha. While Maino and Niles were doing there thing onstage, Sha told me about the ruckus President Carter caused outside. Huh, Jay's here?!!?!…..ahhhhh sh@t!
Maino wrapped his set with "Hi Hater", the tune responsible for his new found popularity and slid off stage. Grand Hustle's personnel flooded the stage by the dozen which meant T.I. wasn't too far behind. "Uh oh, T.I.'s manager, Jason Geter, is on stage ya'll. You know Tip's in the building somewhere", Cipha asserted. As DJ Drama set up his equipment in the DJ booth, Somwya asked in a curious tone, "Is that a Winnie The Pooh sticker on Drama's laptop?". Unsure, we assumed it was and kept diddy bopping to whatever was coming out the speakers. Shortly after, Angie Martinez from Hot 97 barked on Drama for holding up the festivities,.
Sporting a back ATL fitted, a black jacket to match his AKOO Tee-shirt, ATL's emperor appeared from the depths of the Highline backstage area and you could see the excitement in T.I.'s eyes through his pitch black shades as he performed the album's opener, "56 Barz" with such tenacity. "Shawty liked that don't he, world hopped off my jock, I got em right back on it" T.I. rapped. Knocking down hit after, the preciseness in T.I.'s performance was extraordinary. Breath control: Check. Crowd interaction: Check. Delivery: Check. Sha was right, T.I. is the last of the superstars. T.I. then took some time to address such chit chatter about NYC showing no support for Southern artists. Said T.I" All that s*it about NYC not supporting southern rappers, I tell them other rappers, 'shit, that's just you, homey'".
After running through an assortment of hits from Paper Trail, Urban Legend, T.I Vs. Tip and King, TIP then brought some of his Grand Hustle homies out to play. Grand Hustle's OG, Alfamega, got a lil shine with his verse from, "Hurt" (Tip couldn't perform the song because of its violent content) while Big Kuntry familiarized the NYC crowd with a couple joints from his new LP, It's My Time To Eat. Of course, Tip had a few other tricks up his sleeve. Lupe sucker punched the audience with a surprise performance letting loose with verses from "Superstar" and "Hip Hop Saved My Life". Swizz then emerged from the back assisting Clifford on the party starter,"Bring Em Out" and their current collabo, "Swing Ya Rag". That was probably the only time I wished I owned a Louis rag.
Every so often, I would glance upstairs to monitor Jay's movements, but as the show progressed, I lost sight of the big homey. "Watch What You Say" the first Jay/TI collabo blew threw the speakers, but no Jay, it was too early. So then, Tip asks, "Where are my shades, I need my shades for the next ni*ga that's coming out". You knew something was bubbling, but no one knew what or who. The MIA sample rung throughout the ballroom, "No one on the corner has swagga like us"; SHOWTIME!
Tip put his shades on and commenced with his verse, first. He asked, "Is my ni*ga in this mothaf*cka?" Draped in black shades with a black Yankee fitted covering his dome, Jay answered by appearing slowly from behind a black curtain. "You could learn how to dress just by jocking my fresh, jocking jocking my fresh" rapped Jay as TI brushed the dirt off his expensive shoulder. Oh, did I mention the NYC crowd was in ape sh*t mode during the process?
To everyone's surprise, TIP wasn't done. The sounds of "I'm Illy", "What You Know" and "Live Ya Life" kept the crowd rocking. Disappearing abruptly, the crowd seemed a bit puzzled. Drama asked, "What's wrong?" He continued, "Oh s*it, we forgot one". "Whatever You Like" an obvious crowd favorite, leaked through the sound system as T.I. swooned the ladies in the front row.
TI, Jay, Lupe, Swizz…..what more could you ask for? Oh I know, a discussion bout how Twitter and Facebook have invaded the lives of many, with Miss Info, Shaheem Reid and Niles (Maino's tour DJ) at Pop Burger while drinking a black and white milk shake accompanied with a cheeseburger and a side order of French fries…..What You Know about that??
Sincerely
Low "Pinch me, I must be dreaming" Key

Maino & DJ Rocko (Niles) rock the crowd before T.I. hits the stage.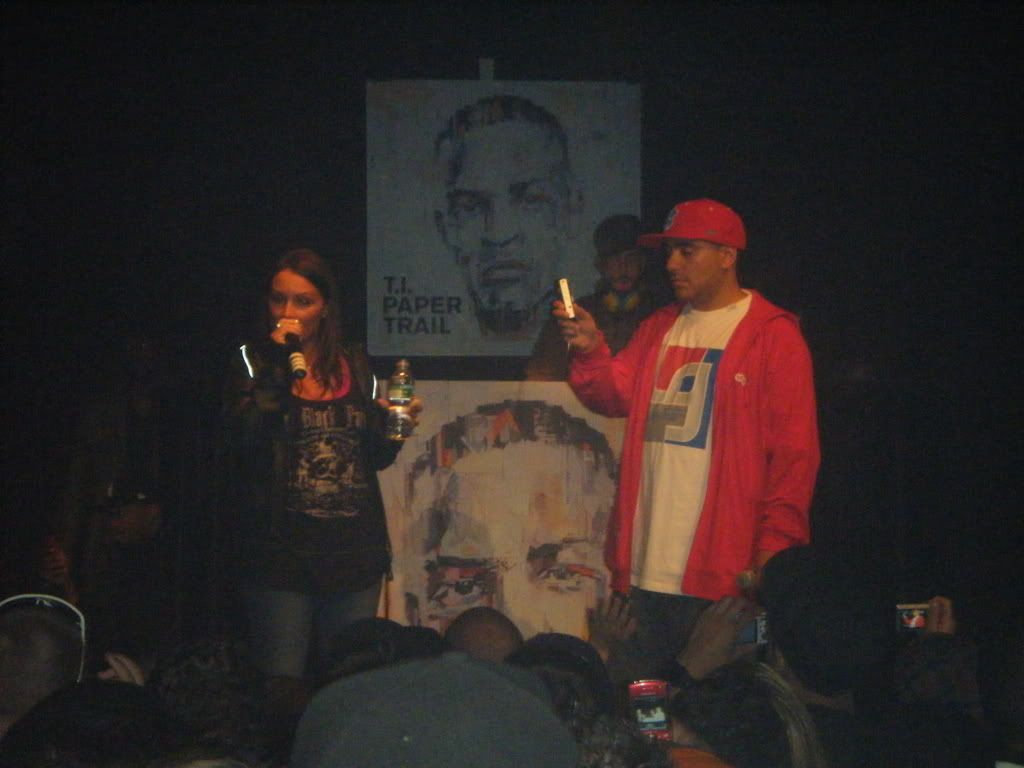 Angie Martinez brings out T.I. while Cipha Sounds records her every movement!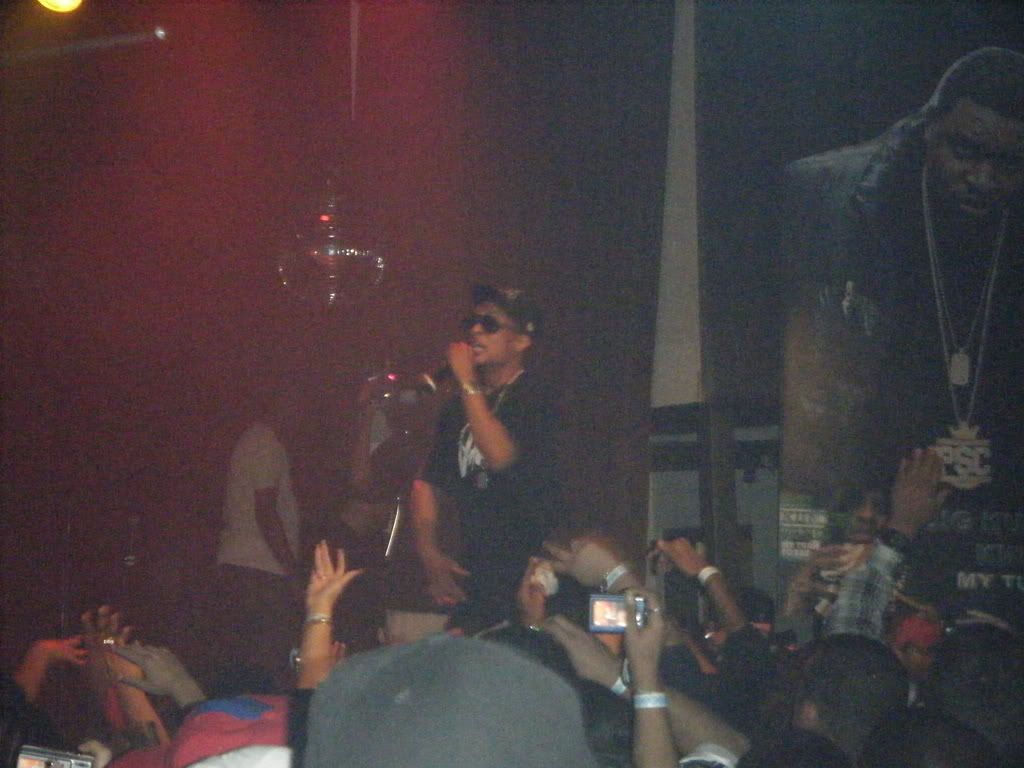 T.I. hits stage and gets BUSY!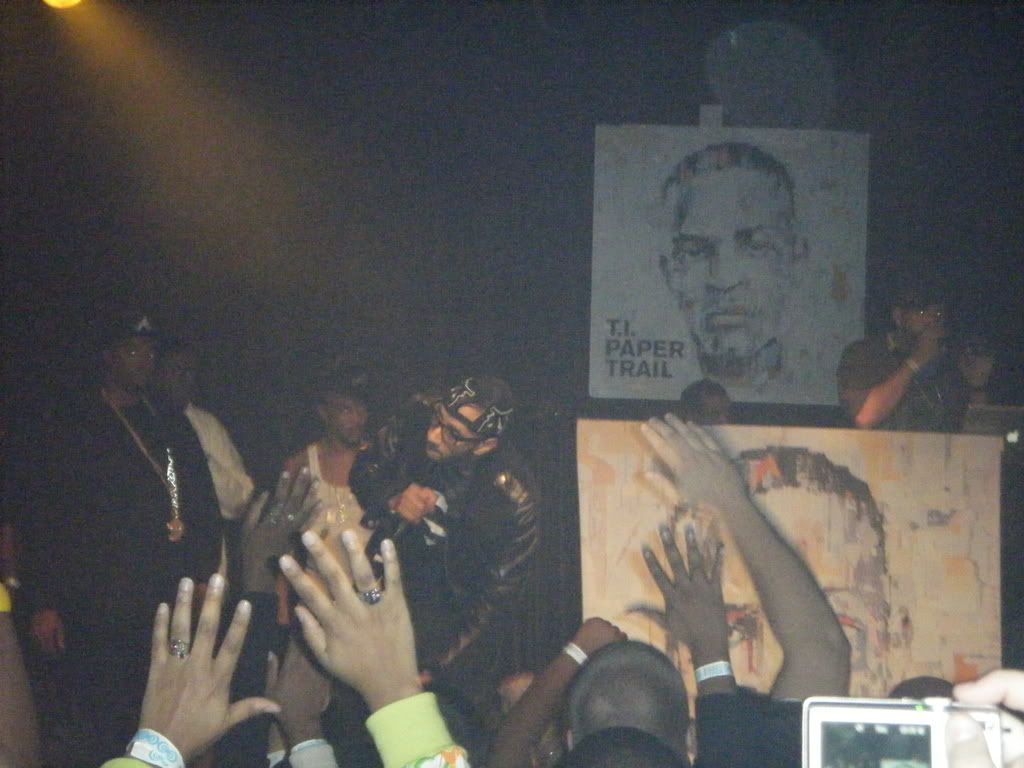 Swizz Beatz breaks it down for New York City.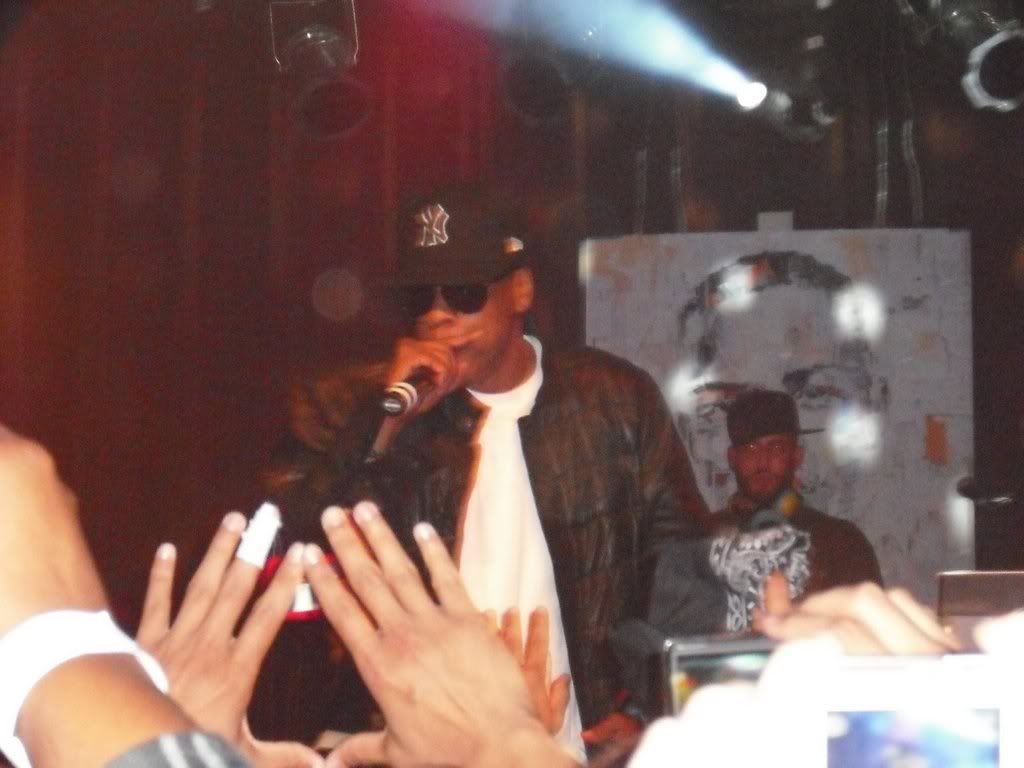 The venue went APE SH*T when Jay hit the stage (Photo spotted at Pardon My Fresh)