On Location: R&B Live One Year Anniversary
June 11th, 2008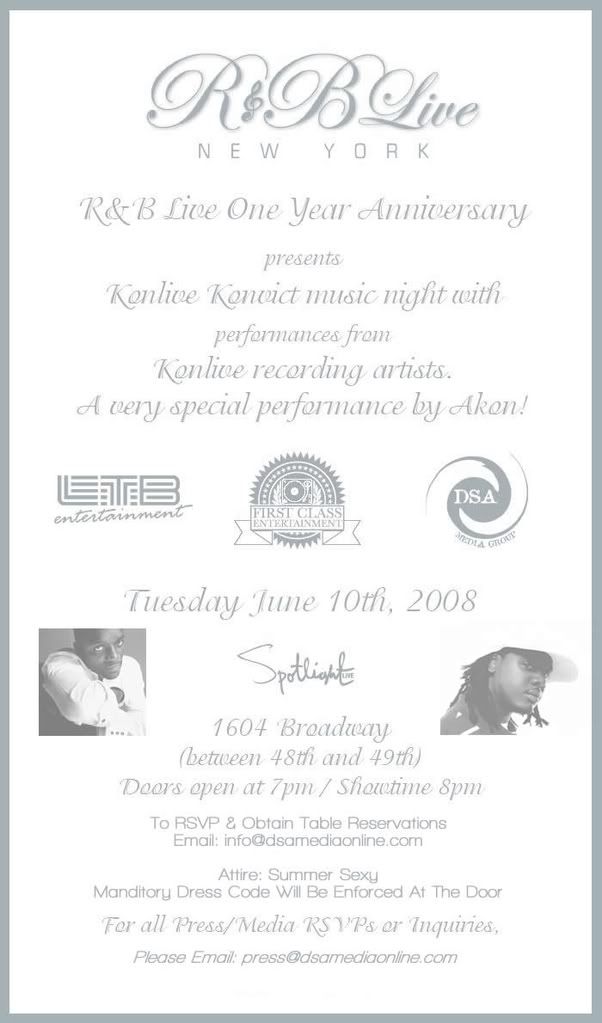 When celebrating a one year anniversary, it's a must that you deliver the best celebration known to mankind, or at least the closets you can possibly get. Usually when I attend R&B Live over at Spotlight in Times Square, it's basically a networking schmooze fest, but last night…ahhhh man, last night was more like a Caribbean festival, Summer Jam and a visit to your favorite club on it's best night all rolled into one package.
Despite it feeling like the El Azizia desert (do your research) inside and out, that didn't stop the industry's most elite from showing their faces at R&B Live's one year anniversary celebration. Knowing how ignorant and absurd the line can get, I diddy bopped to the venue insanely early solidifying my position in a line that usually wraps all the way around 49th St. Of course the usual "I'm on the list" hounds were in full effect (people just LOVE to look important lol), but since I was already confirmed on the press list, I just waited patiently until it was time.
When it was time for press to make their entrance, I hopped out of line accompanied by the generic sucking of the teeth and "who the HELL is he looks" of course, and headed inside. The venue wasn't set up yet, so I took a flick just to show you guys how incredibly packed it gets. I went to the penthouse with some other media reps and patiently waited for the Kon Muzik Family (they headlined the event) to arrive. Surprisingly, Neyo was the first to show up. Grabbed a couple quotes from him and he went on his merry way. Kardinal Offishal, Rock City, Ray L, Colby O'Donis, Red Café and Akon soon followed.
After I snagged my content, I dipped downstairs to the first floor to catch the opening of the of the show. Like always, the VIP pit was a ZOO. I walked down the steps embracing the unreasonable wave of heat while checking my surroundings. I posted up at the end of the steps for a minute just to see who was in attendance and also to see who was getting turned away from the VIP area. Just to be a smart ass, I took a stroll through the VIP Pit just because I saw somebody give me this funny look as if I didn't belong. Approached the guerilla size security guard, showed my wristband and stepped right in. Oh, the person who gave me that funny stare was still on the other side of the velvet rope lol.
I walked through quickly observing who was at what table. Ty-Ty (Jay's right hand man) was sitting near Neyo and Ebro (Hot 97's PD), while Lorrie Ann Gibson was sitting next to some brown skinned honey dip. Lil Kim walked in right before I entered and of course everyone was pulling for her attention. Animals! My homey, Lexxi, spotted me from her table and introduced me to Chris Rock's brother, Tony Rock (scroll down). I made my way to the bar and posted up for the rest of the night GASPING for oxygen lol.
Colby opened the show with an acoustic version of his single "What You Got". Judging by Akon's early appearance, I could tell this show was going to be different from the previous R&B Live performances. Ray-L hit the stage next and grabbed the attention of each sexy lady with a couple of his infectious R&B tunes. Rock City, who I COMPLETELY underestimated, tore that stage to PIECES. Like, to PIECES! The Virgin Island brother showed everyone why they're one of the most talked about new groups in hip hop right now. "Hip Hop Props"….all I have to say is WOW!
Earlier when Akon appeared onstage, he informed the crowd that tonight he was turning R&B Live into a club, and good lord did he! Red Café hit the stage bringing out Nina Sky for their collaborative effort, "Things You Do". After him and Akon did several numbers together, he broke out NYC's current anthem, "Paper Touchin". Again, the crowd erupted in a celebratory fury chanting "I don't know what your money like, but a nigga like me got paper". I was sort of hoping he let Fab, Fat Joe and Kiss come out for the remix, but they were nowhere to be found. Kardinal Offishal knocked out his performance with the energy of 15 hype men ("Dangerous" is the best song to sing to a female standing next to you).
Akon closed out the show in great fashion by bringing the Konvict Muzik Family onstage for a collaborative group celebration. I have a new found respect and love for The Konvict Family. They love their craft and it shows, IMMENSELY. Big shouts to Eric Nick and Shanti Das for brining R&B back to the forefront. Each and every industry employee will be forever in debt to you both. Congratulations on your one year anniversary.
Low "Happy Anniversary R&B Live" Key 
Before the Vip Pit turned into "The Industry Zoo"…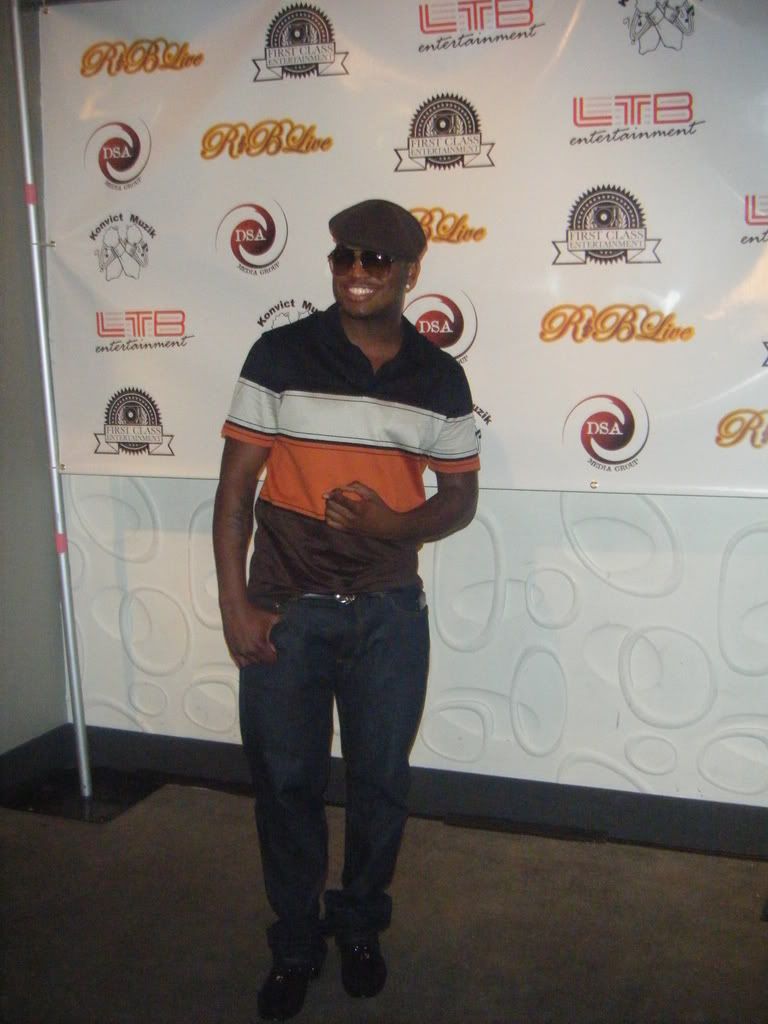 Neyo stopped by…. 
2 Gunz up for Kardinal Offishall… 
Toure and Young Berg pose for the flashing lights….. 
Colby O' Donis gets his shine on at R&B Live 
Ray L poses for BET SoundOff camera….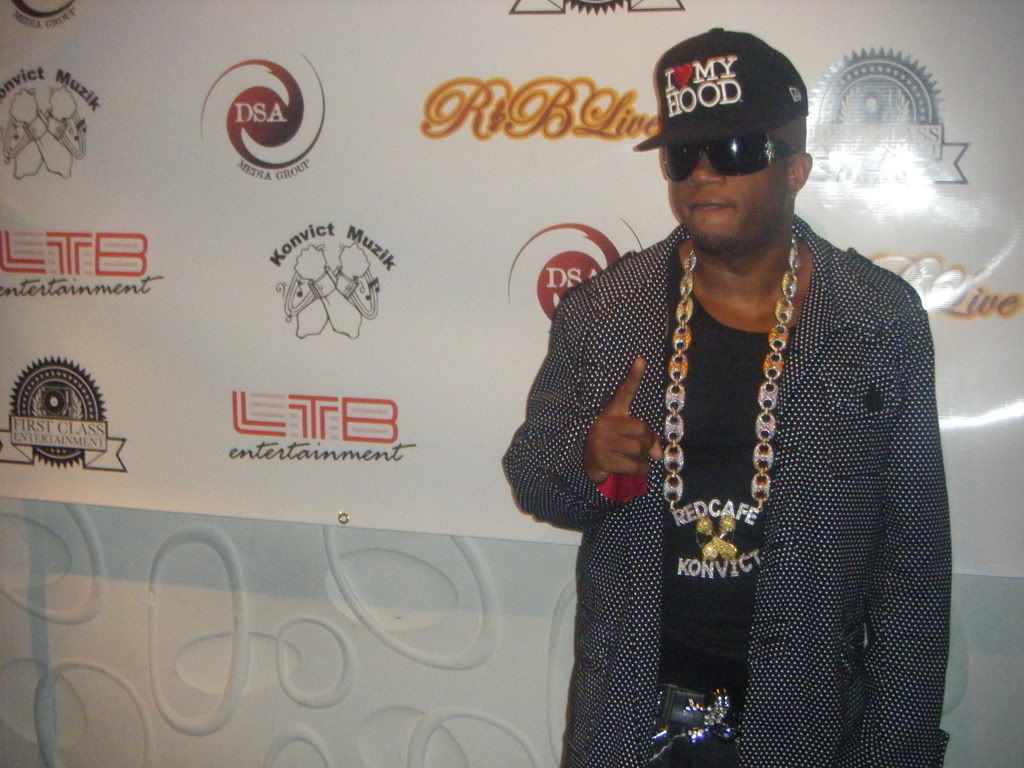 Red Cafe hit the red carpet for R&B Live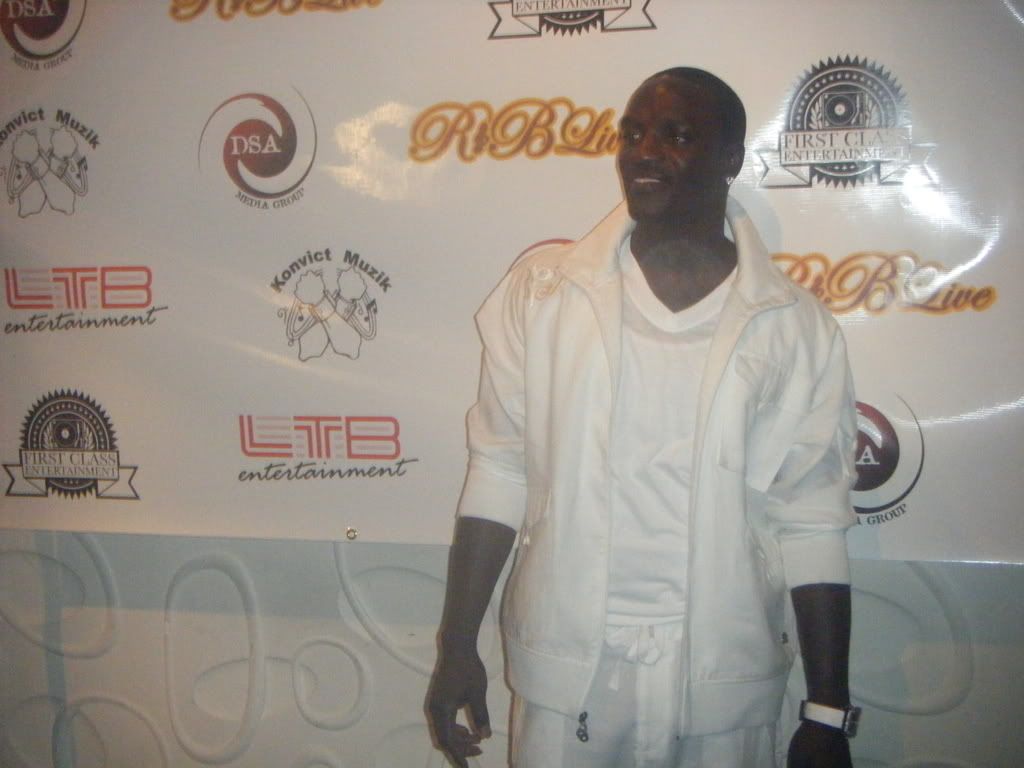 Akon also hit the red carpet….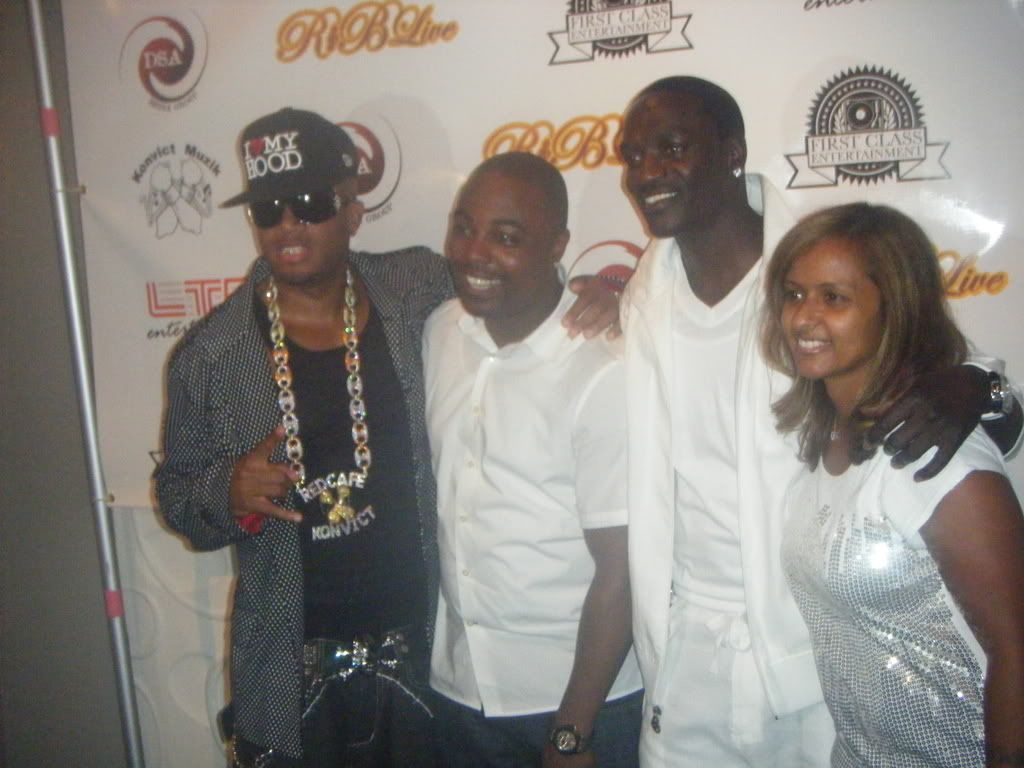 Red Cafe, Eric Nicks, Akon and Shanti Das cheese it up for the camera's  
Even Michelle Williams came out to support!  
Tony Rock (brother to Chris Rock) on the cool out at R&B Live.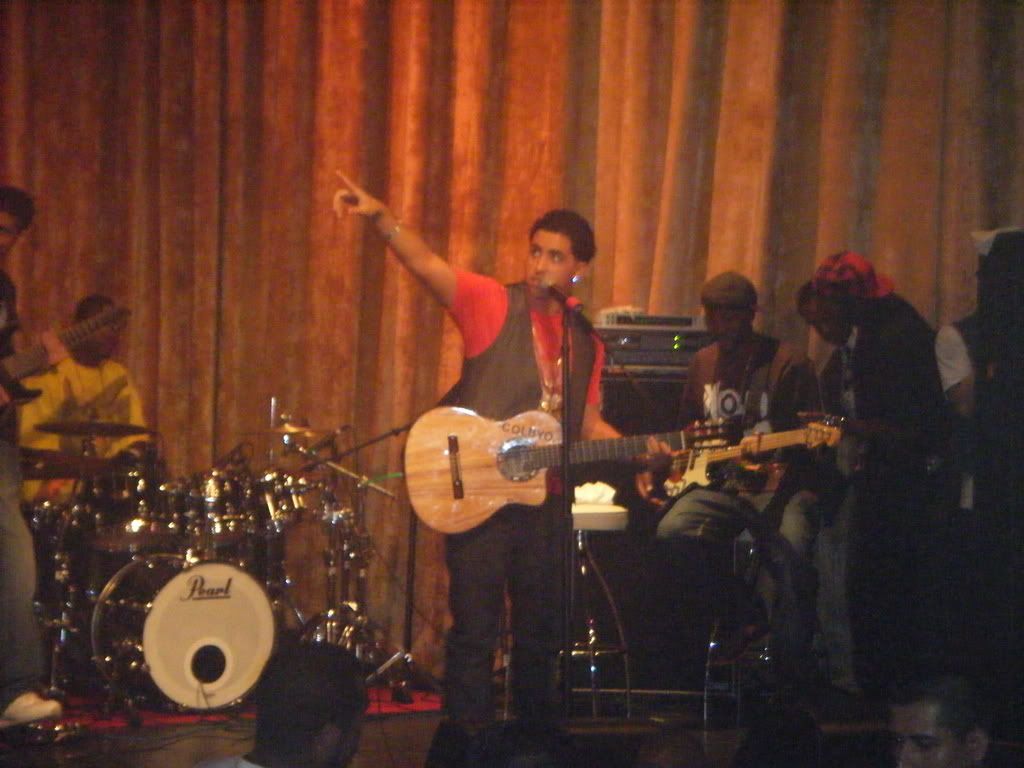 Colby cues the DJ…..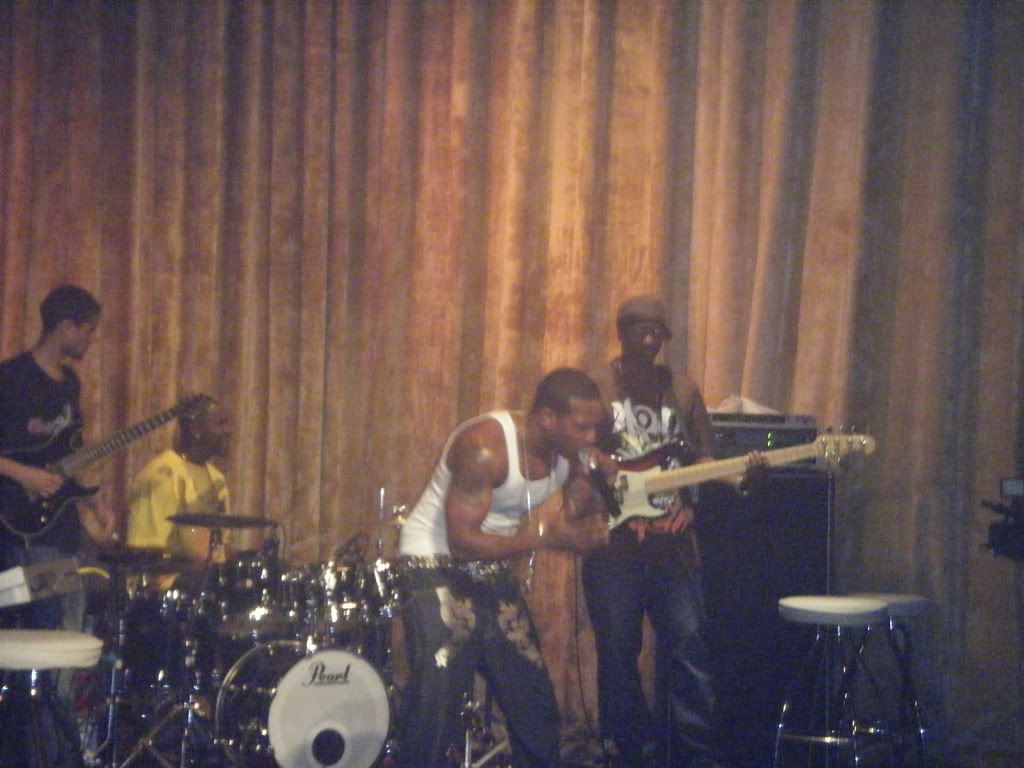 Ray-L serenades a young lady in the front row!
Rock City before tearing the stage to pieces…..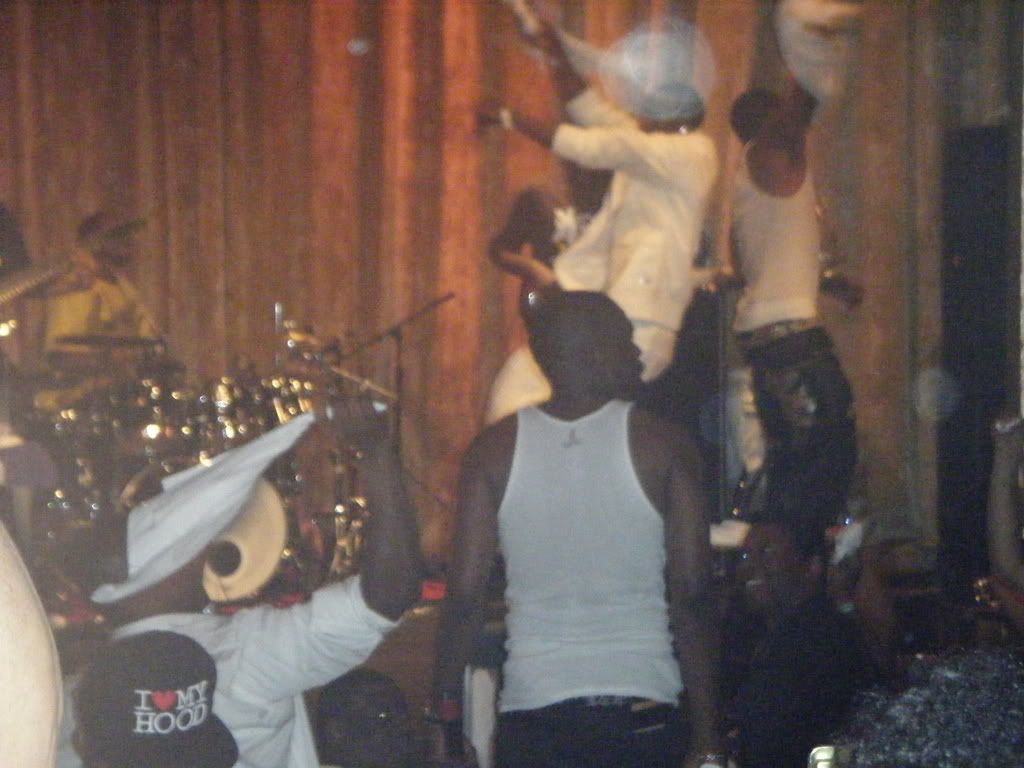 Rock City literally tearing the stage to pieces…….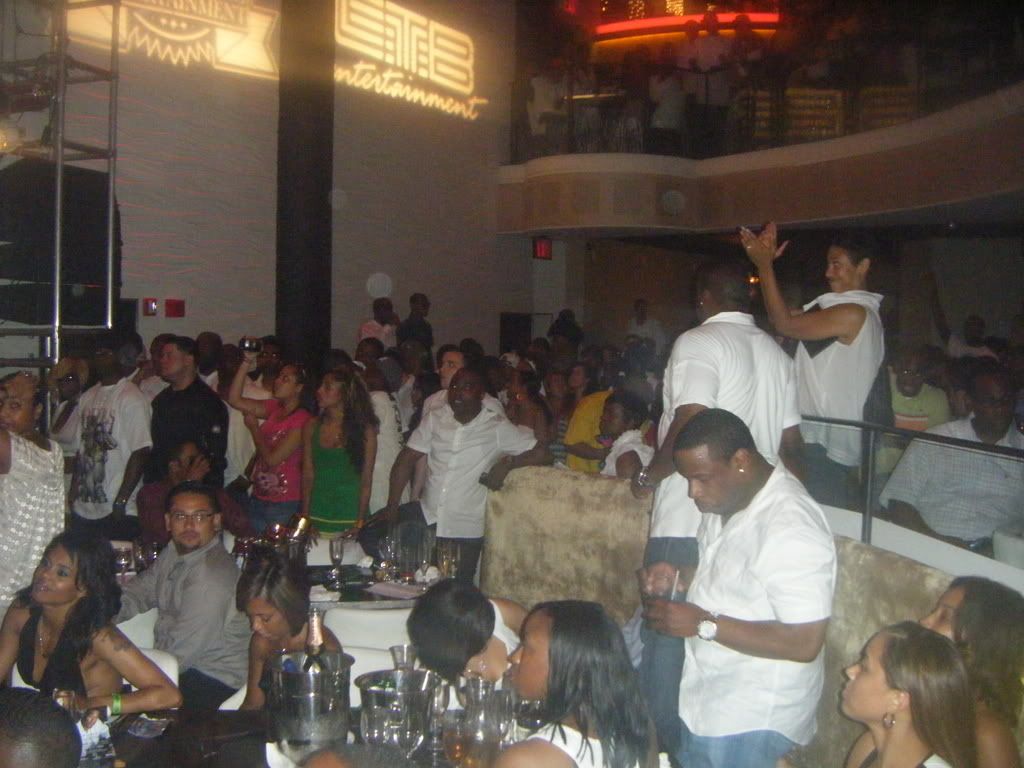 The R&B Live crowd showing their appreciation for Rock City.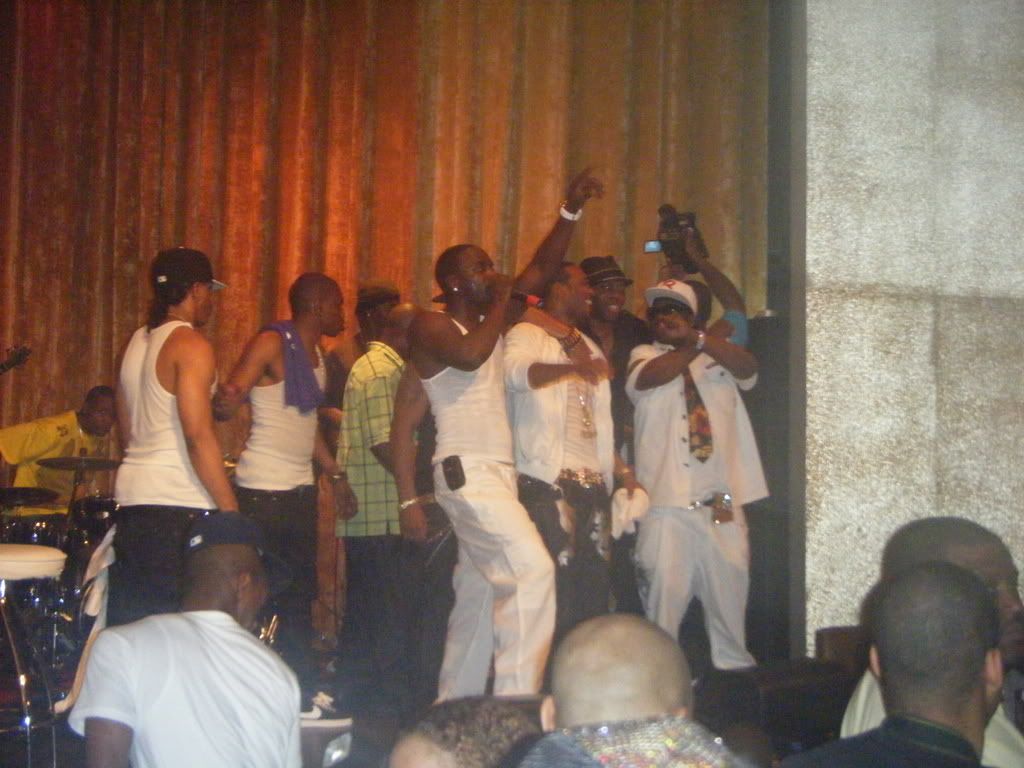 Akon and the rest of the Konvict Muzik Family take to the stage…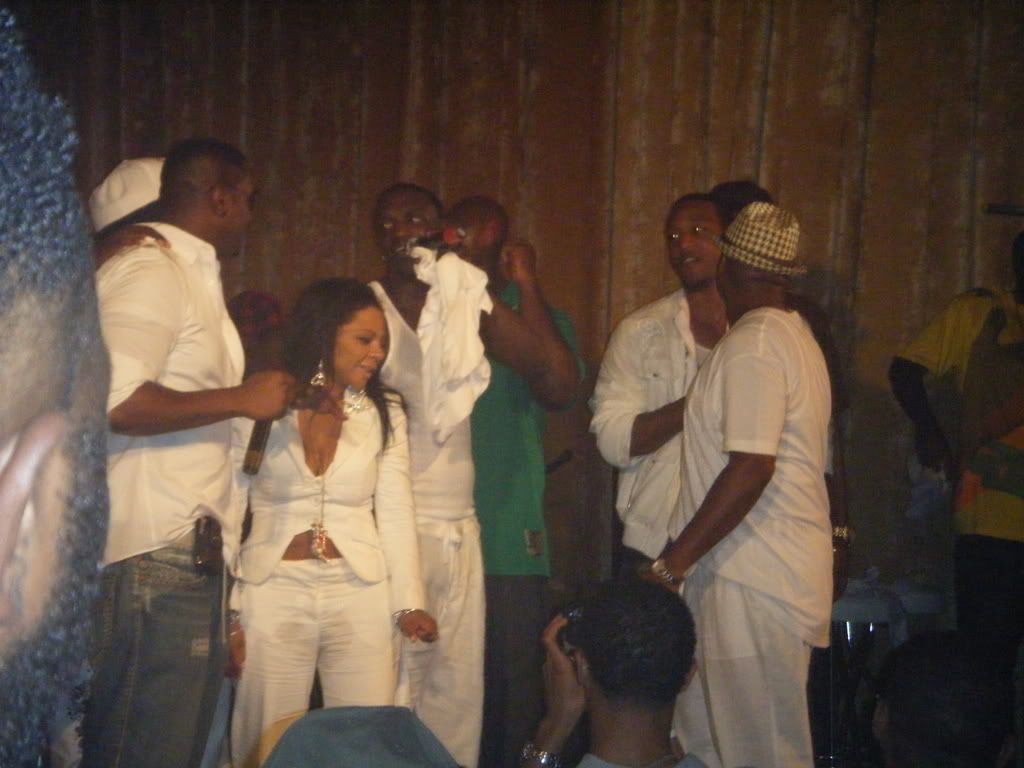 Even Lil Kim hit the stage with the Konvict Family.
The VIP Pit aka "The Industry Zoo"….