On Location: T-Pain's Album Release Party
November 11th, 2008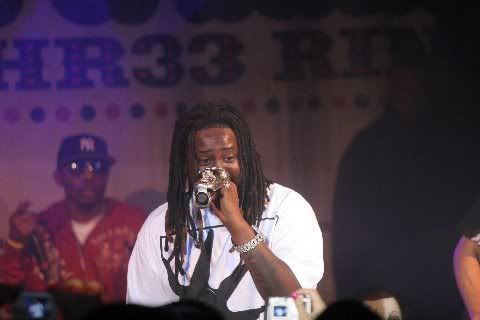 T-Pain's circus just might be the greatest show on EARTH!
A funny thing almost happened before last night's show; my ass almost didn't get in. Last week when I received the invite, I quickly responded to the respective email, only to be told "This list is CLOSED". "Noooooooooooooo" I screeched in agony, (I was asked politely to shut the hell up moments later) this can't be….I will NOT miss the party. So, like a 16 year old brat whose older sibling wouldn't let him play Playstation causing him to run to his mother so she could override the decision (I hate my sister, lol), I quickly hit my boss, who then hit our big boss. To make a long story short, I'm now writing this On Location post, still slightly worn out from last nights festivities.
Not only was the event an album release party, but it also doubled as a free MySpace concert (the line for that entrance made me SICK to my stomach it was so long), which made thing more festive and interesting. After swiping two wristbands from the door lady who I continuously flirted with, ("Can you put that on for me, I've had a long day"), Dre and I skated inside, snatched two alcoholic beverages and posted up till the show started.
Bearded women (ugh), two brawny midgets (they scare me) and a brown tender roni poppin her touché on some 6 ft high stilts (Hey pretty lady), T-Pain really turned Hiro into his own personal circus. He opened the set with an explosive, but brief, set to Kanye's," Good Life". And since I was at the bar getting another round, I would've missed the opportunity to record Kanye if he actually came out, but he didn't (WHEEEW!)
Pizzle ran through some more hits (tooo many to name) and even summoned a couple of his superstar brethrens to the stage for some fun. Maino was the first to hit the stage performing, "Hi Hater"(WHAS GOOD,Niles) Then, Diddy, draped in a black bubble coat, pitch black shades and a grey skully, helped Pain serenade the ladies on "Shawty" sans Plies. "Excuse my appearance" explained Circo Obama (Diddy). "But I've been running around crazy helping Barack Obama do his thing". Pain promised Diddy he didn't have to work, so he retreated backstage to enjoy the rest of the show.
Taking it waaaaay back, TP gave an energetic performance of "I'm Sprung" (I hated that damn song) which drew a surprisingly overwhelming response. Memphitz (he discovered T-Pain), host to BET's new show, The Deal, came out for a short version of "Pop, Lock and Drop It" (I love doing the G-5 under the influence). Busta and the entire Flipmode Squad showed up to familiarize the audience with his new single, "Arab Money" (*Dead*) and even broke out a tongue twisting performance of "Break Ya Neck". Pain said at the conclusion of Busta's set, "I have friends, I have lots of friends".
Terrence J from 106 and Park came out to talk his ish, but it was nothing compared to who Pain brought out shortly after. DJ Khaled emerged from the behind the stage hopping around like the energized bunny he is and went straight into the chorus of "I'm So Hood". I'm sure you could guess what he said at the end of his set and if you can't, take your pick. (Ace Hood coming Nov 18th, We Global, We The Best, Unity….etc.)
After tickling the ivories during "Can't Believe It", Luda slid onstage for "Chopped and Skrewed" and his current single, "One More Drink", which Pain is also featured on. To end the night, Pizzle brought out one of his memorable numbers, "Buy You A Drank", which easily won the crowd over as soon as the first finger snap echoed through the venue.
Check out some exclusive footage and flicks of the party, below!
T-Pain….free drinks…..pretty ladies….wingman (whadup Dre); what more could you ask for????
Sincerely
Low "T-Pain is officially the second coming in my eyes, lol" Key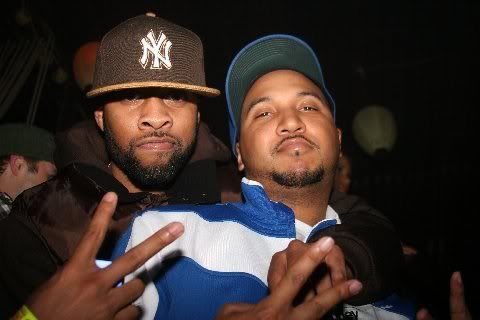 Lowkey and Dre mean mug for the cameras at T-Pain's album release party last night!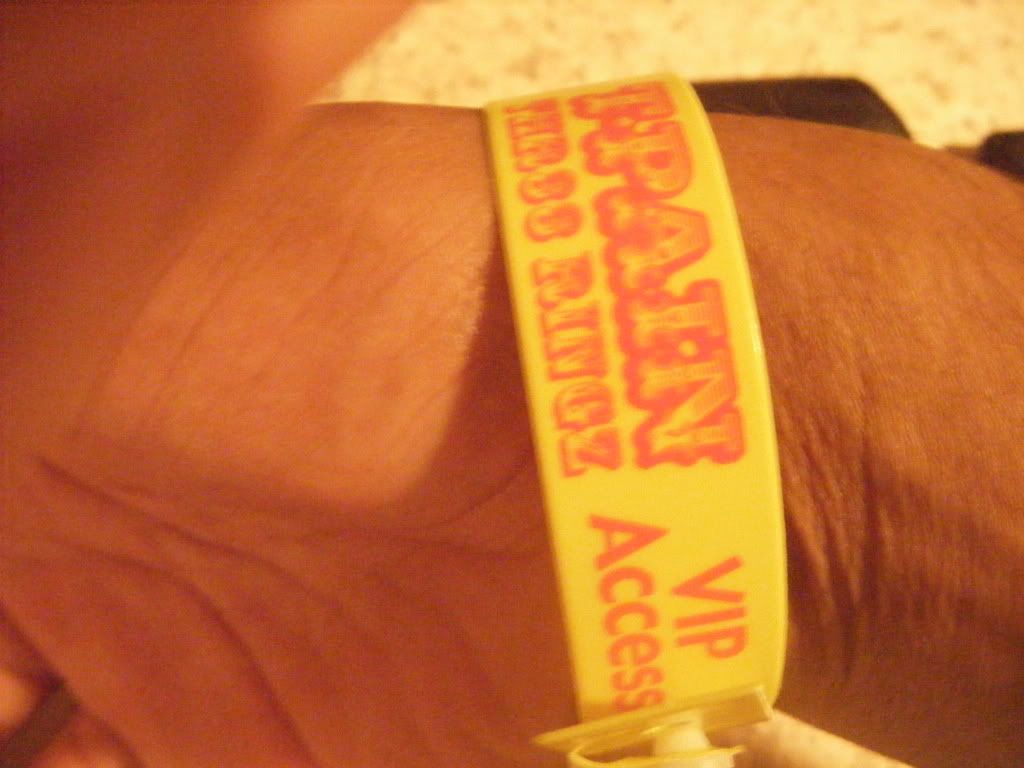 You already know…….


T-Pain brings out Diddy to perform "Shawty" during his album release party in NYC on November 10.

T-Pain and Memphitz perform "Pop Lock & Drop It", "2 Step" during T-Pain's album release party last night in NYC.

T-Pain brings out Busta Ryhmes to perform "Arab Money" during his album release party in NYC November 10.

T-Pain brings out Terrence J from 106 and Park and DJ Khaled during his album release party in NYC on November 10. T-Pain and Ludacris perform "Chopped and Skrewed" during T-Pain's album release party in NYC on November 10. T-Pain performs "Can't Believe It" during his album release party in NYC on November 10.