On Location: Young Jeezy Performs @ Blender Theater
August 27th, 2008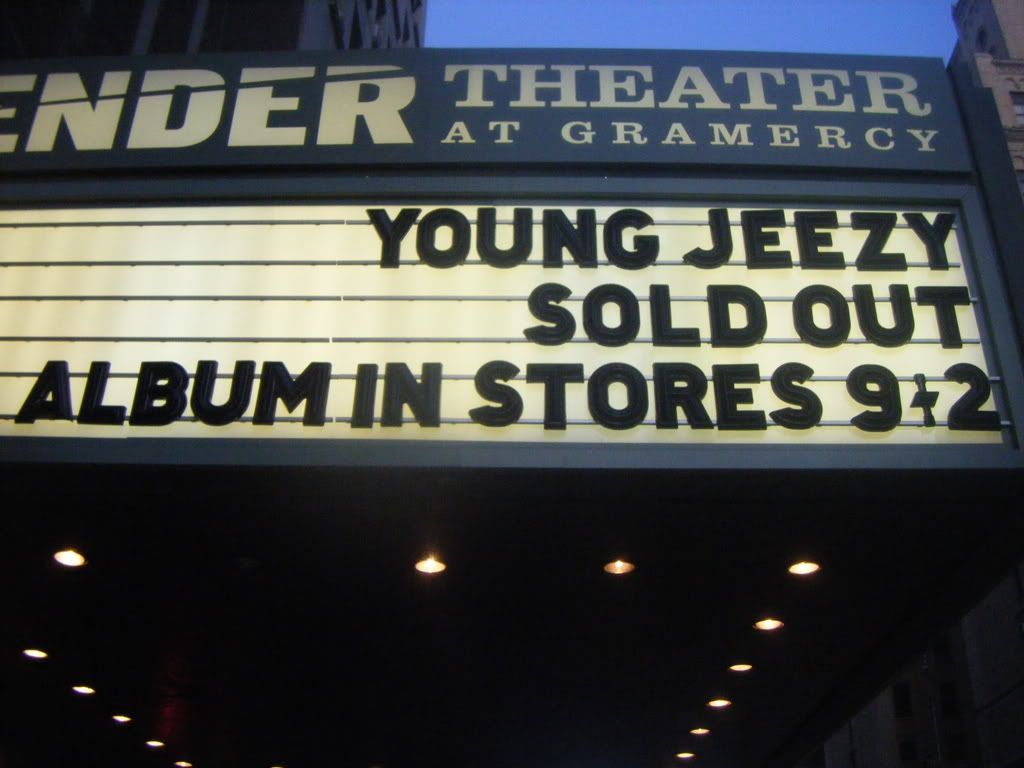 Young Jeezy takes over NYC's Blender Theater! Somebody asked me, "Why would you go see a Young Jeezy show?". I paused, pondered and responded, "Well, the tickets were free (I haven't paid for a concert ticket in the last 12 months), Jeezy has a deep catalogue and shows at Blender Theater are always dope. I made my way down to Blender Theater only to be greeted by a line that wrapped it self AROUND the corner. Seeing how I don't understand the concept of standing in line, I waited for a couple of high powered Def Jam employees to arrive and slipped right in, lol (I'm so spoiled).
Cipha Sounds and Peter Rosenberg from NYC's HOT 97 tamed the antsy audience with some throwback tunage while Jeezy and the CTE family prepped for the show backstage. What amazed me even more is that before the lights turned off, some knucklehead next to me had the NERVE to roll some herbal refreshments. Mind you, it was bright as ALL OUTSIDE while he attempted the task. However, to his dismay, a young but brolic looking female appeared within seconds sporting a stern look that read, "Put that foolery down, or I'm going to make an example out of you in the next 5 mintues". Shorty could've EASILY passed as a former correctional officer on Riker's Island.
As the lights disappeared, Sean Pecas (VP of Def Jam Promotion) gave the "OK" for Cipha to introduce Jeezy to the masses; SHOWTIME! Draped in a black Harley Davidson bullet proof vest, a black bandanna under his A-Town fitted, Jeezy emerged from the circle of CTE affiliates standing on stage and got straight to work. The introduction to "J.E.E.Z.Y", a cut from his sophomore set, Thug Motivation 102, leaked through the Blender speakers with such intensity as Young Jizzle stood front and center. "Jeezy at the trap, Jeezy like to grind/Jeezy bout his paper, cause Jeezy like to shine" A-Town's number one trapper rapped.
Maybe it's just me, but I've never seen a southern artist come to NYC and control an entire audience like Jeezy did last night. Sliding through countless underground and mainstream hits, Jizzle attacked DJ Khaled's "I'm So Hood" with so much fury, I thought for a split second that maybe, just for a minute, I was from the hood (but it's PAINFULLY obvious that I'm not, lol). Things got ignorant when a brief brawl broke out 10 feet to the right of me. At first I thought, "Hey look, a hip hop mosh pit". But that quickly changed when I saw some dude covering himself and his female counterpart. Jeezy looked, smirked, and kept it movin.
"I heard if you don't bring mothafu*az out in New York, you ain't sh*t," Jeezy uttered. I pointed my apparatus towards the stage and put my trigger finger on the record button. He even joked, "What you say Kanye?"……"What was that Jay?" But of course, neither one appeared. Instead, Jeezy took us on a mini Brooklyn excursion as he brought out, Fabolous, Maino and I'll be GOD DAMNED, Lil Kim. Each of Brooklyn's hip hop representatives performed a quick diddy from their respective catalogues, but it was Lil Kim's appearance and performance that received the most praise.
Tackling even more joints, Jeezy still had some ammo under his sleeves. "I Luv It", "Go Crazy", and his remix verse to Shawty Lo's "Dey Know" were easily crowd favorites. Hell, the crowd was so excited, somebody hurled a cup full of either water or alcohol (I can't believe someone would waste that much liquor, lol) towards the stage which missed Jeezy by several inches. At that particular moment, I thought to myself, "I didn't even say goodbye to my sister because for some reason, it'll be me who's pegged as the liquid throwing culprit, which then, I'll be dragged out unconscious".
All and all, the show was dope and everyone walked out satisfied. Oh and for that tool that asked me that question, I hope you're reading this because this is EXACTLY why I attended Jeezy's Blender Theater show. Pics below…..
Sincerely
Low "(Young Jeezy voice)Daaaaaaaaaaaaaaaaaaaaaaaaaaaammmmm" Key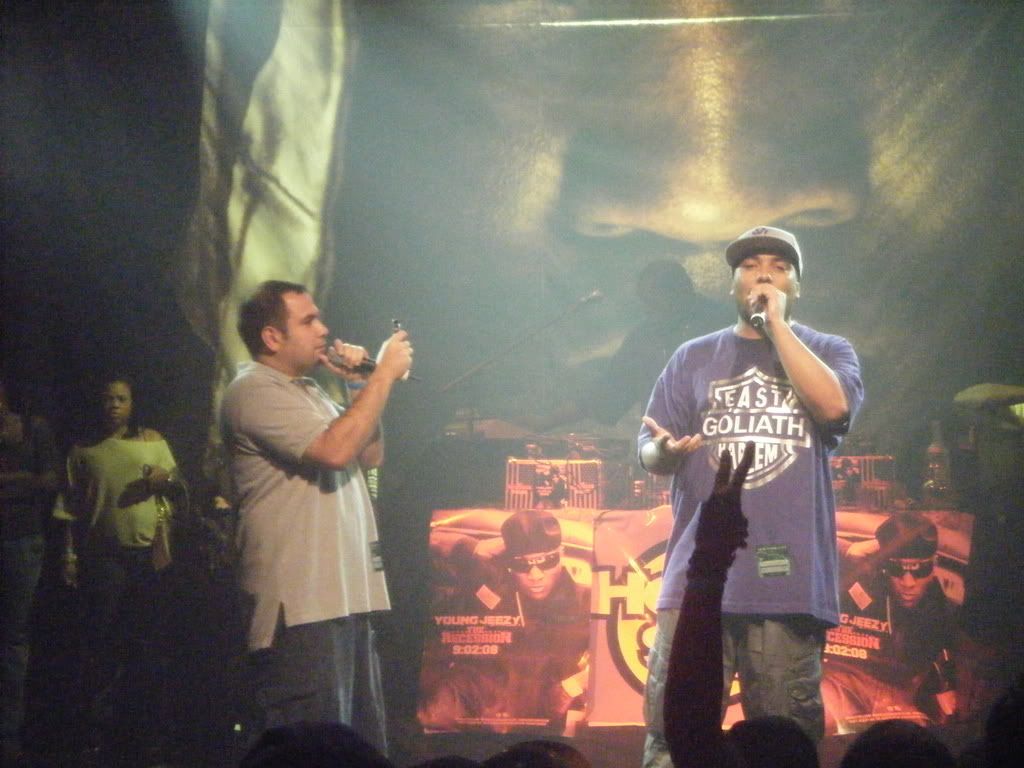 Hot 97's Peter Rosenberg and Cipha Sounds prep the NYC crowd for Young Jeezy…

Young Jeezy gets in during his Blender Theater performance…..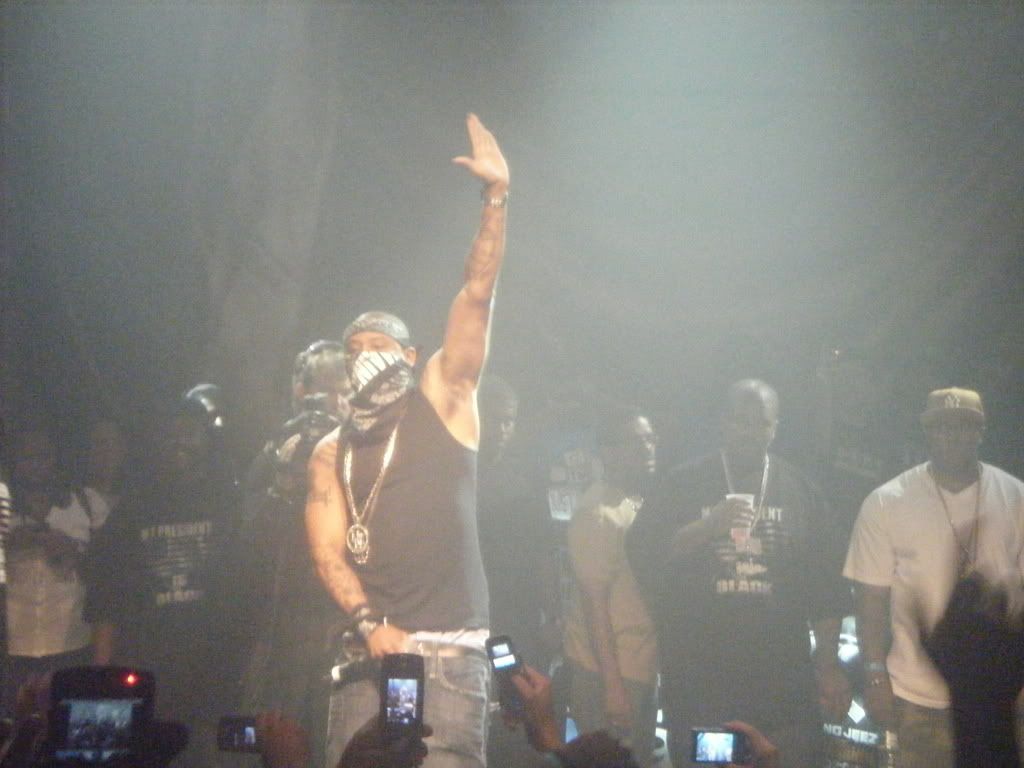 Maino waves to all the haters at Blender Theater….

Young Jeezy and Lil Kim share the stage at Blender Theater…..