Question of the Day: 50 Cent or Rick Ross
January 30th, 2009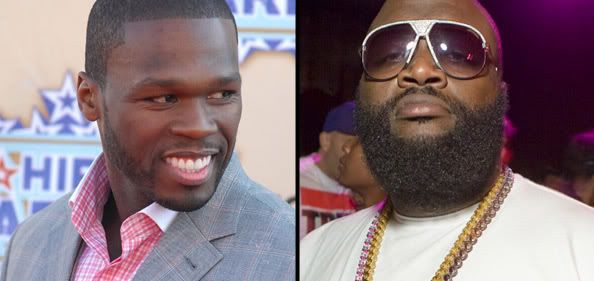 The First Battle of 2009!Ok, so when I first caught of wind of this verbal dispute between Richard Ross and Curtis Jackson, I sort of jumped to the fences just so I could get a better view, especially when one of my industry cohorts called me the previous night and forewarned me about Fifty's efforts. Although I was excited about the war that was unraveling before our digital eyes, it still boggled my spidey senses as to why Ross said what he said in "Mafia Music".
Ross rapped, "I love to pay ya bills, can't wait to pay ya rent/ Curtis Jackson baby mama, I ain't looking for a cent/ Burn the house down," Ross raps, referring to the "suspicious" fire at a home owned by 50 (in which his son and ex-girlfriend lived) last year. "You gotta buy another/ Don't forget the gas can, jealous, stupid muthaf—-r."
Whoa, where did that come from?? Anyway, I paid it no mind and figured neither would 50. Of course, I was wrong. No more than 3 days later, 50 responds with the lethargic (IMO) response, "Officer Ricky (Go Head & Try Me)".
Now, I usually adore the disrespectful efforts from Curtis, I truly do. The "aggressive content" issued by the South Side monster is always entertaining, and the sh*t talking at the end is even more appeasing. But, all good things must come to an end. In 50's case, an ABRUPT one.
Hey Fif, I'm a huge fan…really I am, but, ummmmmm…let's see how can I put this delicately, WHAT THE HELL ARE YOU TALKING ABOUT???? Usually, in these frequent scenarios, you spit 2 bars, at most and leave the rest of the hilarious commentary towards the latter of the track.
This is the FIRST diss track I sincerely hate from you, lol. You went on and on and on and on about NOTHING. That high pitched, "Officer Ricky" was the ONLY funny part. Oh, and I'm DEFINITELY not going to discuss your cry for Lil Wayne's attention at the end. SAD..JUST SAD!!!
Here's the killer: During Ricky's interview with Angela Yee this morning, The Boss said, "Oh, I heard that, but I was positive that couldn't be the response. You can't insult "Mafia Music" like that. We are going to act like we didn't hear that garbage. We're going to give you another 48 hours, take your time!" AHAHHAHHAHAH! Battle DONE!
50 Cent- Officer Ricky (Go Head & Try Me) |Rick Ross Diss|
Rick Ross Interview with Angela Yee on January 30th |Dissing 50 Cent|

So, after hearing both sides (sort of), Who Are You Siding With…And Why???? Does 50 stand a chance after the first effort?? Will Ross give 50 a run for his money??? Is this a bunch of nonsense??? SOUNNNNNNNNDDDD OFFFFFFF!!!
Sincerely
Low "Fifty, I sure hope you have something better in the stash, cause from what a little birdy told me it sounds like Ricky and his boys are ready for WAR!" Key