Question of the Day: Hip Hop Dream Team
August 18th, 2008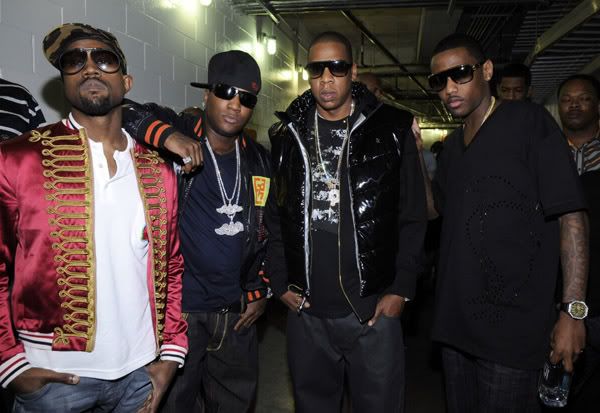 Assemble your Hip Hop "Dream Team" right now. Come on, it'll be fun!
Alright, so check this out, one of those 4 individuals has a song coming out in the following months with an IMMACULATE all-star line up that's going to blow EVERY collaboration out the water, TRUST ME WHEN I tell you this. Now of course, I've been sworn to secrecy in regards to posting the track's features and posting of the actual track itself (Yes, I do have the track), but what I can tell you is, 2 of the 4 gentlemen above are featured on the cut.
As I was inhaling the goodness of this spectacular collaboration, I started to ponder, is this the GREATEST collabo known to mankind or, dare I ask, could another collabo top this one? Yes boys and girls, this is where you get to use your creative little minds. Put your thinking caps on, scroll through your iTunes catalogue and conjure up your "Dream Team" collabo. Now, for that million dollar question we've allllll been waiting for, "If you could, who would your Dream Team Hip Hop collaboration consist of and who would produce the track". Sidebar: each collaborator has to be a living artist.
Alright, have fun boys and girls…..LowKey is heading Uptown for a bowling event with Def Jam's princess, Karina Pasian.
Sincerely
Low "S.L.U….Remember those three letters" Key