Question of the Day: Super Group Status
October 27th, 2008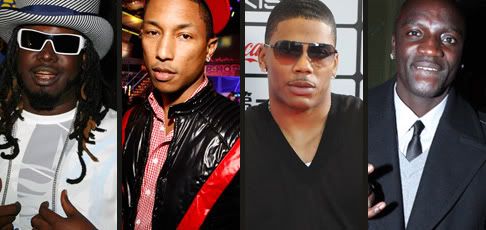 The 2009 Bell Biv Devoe????
I remember during my excursion out to Las Vegas for Nelly's Brass Knuckles Celebrity Weekend, the St. Lunatic sort of hinted at a super collaborative effort involving himself, Akon, T-Pain and Pharrell. Though he didn't spit out enough information to cause any kind of commotion, he did, however, reveal the project was in the early stages of production. Said Nelly five months prior, "I feel like we don't have that mark yet. I don't no is showing that longevity. I like groups like BBD. I love to have fun, so right now it's just some ideas we're tossing around"
Fast forward to this past weekend in Atlanta, GA. Nelly, again, the bearer of exclusive details, decided to spill even more beans about the super group, but this time, reveals a fourth member, T-Pain. "I know me, Akon, Pain and Pharrell are talking about doing a group project. We have a host of thing we're trying to do; possibly a 2009 BBD type of thing, so we'll what that do". Meanwhile, Skateboard P (Pharrell Williams of The Neptunes) played coy when asked about the project and its participants, "Those are all my boys," Pharrell clarified. "I'm kind of the only one who adheres to the oath of secrecy" 
Could the four of them pull off the project without sounding corny? I mean, I know it's the age of the "collaboration", but is the industry ready for a Nelly/T-Pain/Akon/Pharrell Lp?? First single status would probably be monumental on some type of level, but an entire project, ehhhhhhh, I don't know.
Anyway, enough of my banter, here's the question, How excited are you about a super group with Nelly, T-Pain, Akon and Pharrell??? If so, why? If not, why???
Sincerely
Low "A 2009 BBD???" Key