Real Talk With Rick Ross…..
January 12th, 2009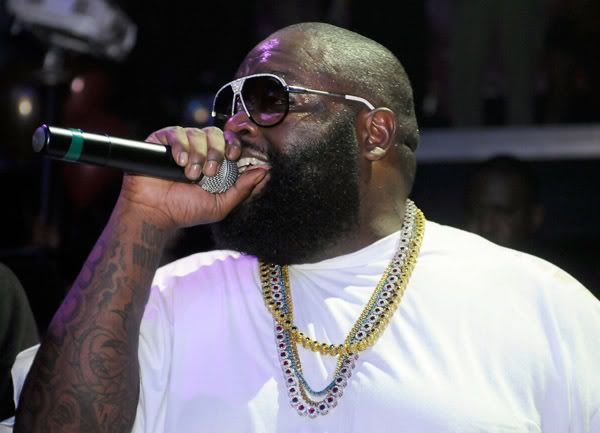 It's Deeper Than Rap….no really, IT IS! When I got the word that Ross was ready to talk to the media about any and everything, I thought, "Great, I'm one step closer to getting molly whopped like….(just click this link)". But then I was informed it would be a phoner, which sort of calmed my nerves because if something did come out wrong, I had an ample amount of time to escape to Tahiti where I would start a new life under the name of Bonsbi The Boatman.
I alluded the blatant request of the aforementioned situation and sort of eased into a "So everyone is talking about you on the net" approach. I guess he smelled where I was going with the inquiry and, well….here's what he had to say…..
"I think the talk makes my story more compelling because people are now looking into my life and realizing, it's much deeper than rap. When a lot of mothafu*kerz look into it and find out the real, they sit they ass down somewhere because it really goes down where I'm from. I don't think anyone questions what I talk about in my music; what I've seen or what I've done…they don't question me, I run these streets. I'll walk in a room full of any of these ni*gaz that ya'll feel are tough and it is what it is. I breathe smooth and I'm not going to have any problems, I'm telling you that right now. That internet stuff, when that sh*comes to life is when the boss enters the room. I'm about business and that's what I'm here to promote. Have I seen 50 Keys? Of course I have, I been getting money, that's not even a question and I don't think anyone has ever doubted that. So, that's why my music is going to remain relevant and I feel I'm only going to get bigger and better because the women love me."
Yep.
To save myself from any bodily harm, I'm going to let YOU guys reveal your thoughts on Ricky Ross the boss. Yes it's safe, he doesn't know how to look up IP addresses (Ahhh, sh*t, I meant to say that in my head).
Sincerely
Low "It's all love, ROSS" Key