Archive for "Young Buck"
December 30th, 2008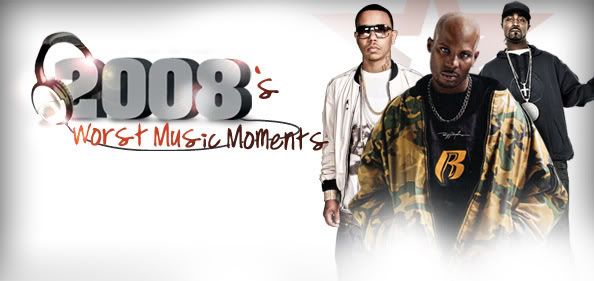 Without them, this list wouldn't be possible! Read the rest of this entry »
---
---
November 20th, 2008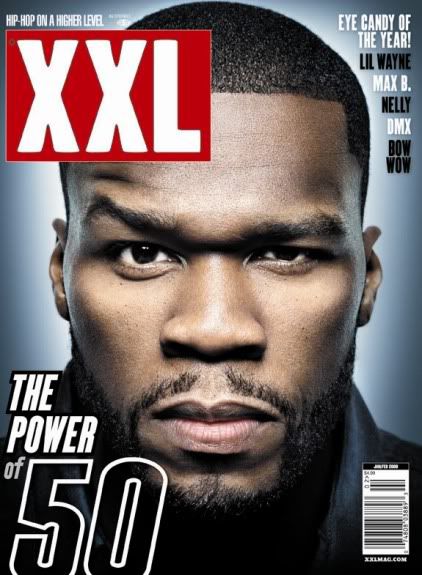 And it starts……… Read the rest of this entry »
---
November 4th, 2008

Hip Hop put in tooooo much work for Barack to lose! Read the rest of this entry »
---
September 12th, 2008

Beef is getting played out, NO MORE DRAMA! Read the rest of this entry »
---
July 2nd, 2008
*50 Voice* Whoa, Whoa, Whoa, Whoa, Whoa, Whoa…..
Sorry, I just love singing that absurd melody lol. Anyway, so I was listening to G-Unit's newest offering, Terminate On Sight at my desk and I noticed a line on the track, Rider Part 2 (Lol, I'm mad I'm acting like the song is new) in which Young Buck, in a haunting but ironic statement, states "Even if 50 drop me, I still wouldn't sign".
Ok, so here goes….
2 Weeks ago, the obvious and hilarious happened, remember? And though Young Buck is still TECHNICALLY signed to G-Unit/Interscope Records, what does the future hold for this man's recording career. I mean, let's think about it…Young Buck & 50 obviously won't be seeing eye to eye anytime soon and we all know when 50 puts his foot down on any issue, that's usually how the situation goes. Both parties, 50 and Buck, have publicly denounced each other without hesitation so, for the most part, a working relationship between the two of them is walking straight out the front door.
And since we ALL know 50 is pretty big on loyalty, Buck has since blown any chance of reconciliation with the G-Unit bunch since he went and put a verse on the remix to The Game's current single, "Game's Pain", which also features several of 50's other arch nemesis, Fat Joe and Jadakiss. 
With it being painfully obvious that 50 and Young Buck are no longer BFF, the punchline, "Even If 50 drop me, I still wouldn't sign" has been brought back to life. So the question I place in your possession is this, since 50 DID in fact drop Young Buck, what label would he fit nice with? Bad Boy? Roc-A-Fella? Cash Money? Derrty Ent (Nelly's label), Terror Squad? Dipset? D-Block? BlackwallStreet (Game's label)?, Grand Hustle (T.I.'s label)?
Sincerely
Low "Since 50 DID drop me, I wonder with whom I'm gon sign? (that should've been the line)" Key
---
June 18th, 2008
Well what do you know, good ol Young Buck hopped in the studio faster than 50 kicked him out of G-Unit and recorded this well thought out rebuttal to the tom foolery that occurred late last night. You all know where I stand on this position, and this lil response has only made the situation worse. This lil back and fourth situation is looking oh so familiar. I remember during Game's fued with 50, he distributed a SLEW of diss records, but then 20 seconds later he wanted to be buddy buddy again.
Ain't too much you can say to clean up this mess Buck. Hell, this response even made the situation look worse. Take it on the chin, and let this ish ride out. It's extremely surprising that after all this time spent with 50, you haven't learned a thing!
Young Buck- The Taped Conversation 
Like it, Love it or Leave it?!?!??!?!
Sincerely
Low "It's a sad day in hip hop! Sike! Hahhahahahahahah" Key  
---
June 18th, 2008
*DISCLAIMER* What you're about to hear is going to make you LAUGH YOUR ASS OFF, BE PREPARED!!
I want you all to know that I, LowKey am not a horrible human being. This side of me only comes out when provoked, so trust and believe when I heard this fiasco of a phone call, I was DEFINITELY provoked to tippty type up this lil post. As we ALL know, Young Buck is the second member to be heave hoed from the G-Unit circle (Game was the first for you lost ones). Usually, I would feel some type of remorse for an individual in this type of situation, but you have to understand one thing, when you get on stage blurting absurdness like screaming "F G-Unit" on stage (the higher ups forced me to remove the link),  all that crying is now OBSOLETE to the cold hearted individual.
Don't get me wrong, I mess with Young Buck…HEAVY, but I just can't cosign this type of activity at all. Nope, I'm not mad at 50 either, he knew exactly what was unfolding when Buck started acting out. Why not record it? In fact, he should have video taped the conversation just so we could see the expressions on his face when he heard Buck sobbing uncontrollably. For once, I'm siding with 50's antics; they were perfectly planned, timed and executed.
I read on a hip hop forum last night that people are actually congratulating Buck for manning up and admitting he was wrong. Again, I'm not a cold hearted individual, but you CAN NOT hop on a microphone yelling "F*CK G-Unit" knowing your former boss has the most incriminating piece of evidence in the stash. Even though you've probably heard this already, it definitely can't hurt to hear it again lol….
Young Buck Hearts 50 Cent Part 1
Young Buck Hearts 50 Cent Part 2
Sincerely
Low "All hail the great Miss Info for putting this out to the public" Key
---
April 7th, 2008
What's a Monday afternoon without some insightful commentary from Mr. Curtis "50 Cent" Jackson ????? This morning on Hot 97's Miss Jones In The Morning, 50 Cent decided to call in and clear the air on some of the industry chatter regarding his court case with his baby's mother, Fat Joe, Floyd Mayweather and Young Buck.
Since 50 decided to air EVERYTHING out and it's a bit much to transcribe, I'm going to list the highlights from each topic he discussed as well as the interview in it's entirety.
50 Cent On Young Buck:
"It doesn't seem Envy, you can look at that and see that's Game all the way. I was giving him a chance and giving him the benefit of the doubt then, but you can take this as an official notice right here because we're on the hottest morning show in the world right now; pretty much you can say Young Buck is no longer in the group G-Unit, but signed to G-Unit as a solo artist"
50 Cent On D-Block:
"I don't really feel that energy towards them. I don't really hate or have any hatred in my heart for them, it's more me just being competitive on a hip hop level that's why I left them alone period. I even leave them out when I start talking about artists that I bodied on record."
50 Cent On Floyd Mayweather:
"Yea we got into a little thing. You know what it is, we're both real physical and I'll put my hands in his face so it's a reflex for him to throw a punch. We're back and forth with money….like we gamble a lot with things. (Sarcastically)Man, Floyd's no longer undefeated. It wasn't like a fight, it was just a little scuffle."
50 Cent On His Baby Mother:
"I was giving her 1/2 a million dollars a year and then she thought she was entitled t0 17% because she's listening to these bum chicks she has around her. (impersonates a female voice) 'Cause New York State Law says you entitled to 17% girl, you see all that Vitamin Water money go on in'. I was giving her $25,000 a month and she went in thinking she was going to get $50,000."
50 Cent On Fat Joe:
"You know what he wants to do, he wants to say he wants to fight me. I told him the address to my office on the record("I'm Leavin" is the track 50 is referring to). It's not hard to find where I'm at man, I'm out and about! Shooters, they mean (Michael Shawn states 50's enemies claim he has too many cops around him). They just say it the other way so it doesn't sound official, but they know not to come around here with that"
50 Cent interview with Miss Jones
What are your views on 50's interview??? Do you think he's over the top with each situation or is he just being who he is??? Speak on it…you know you want to!!
Sincerely
Low "I wonder what Young Buck has to say about 50's remarks…CHECK BACK TOMORROW LOL" Key
P.S. Make sure you check back tomorrow, I should have some a comment or two from Young Buck regarding his new position over at G-Unit
---
March 18th, 2008
I've been an avid reader of XXL Mag for quite some time now, and though each issue provides me with a bit of hip-hop knowledge I may have lacked before reading, this issue was one of the best I've read to DATE! 
Since the departure of Elliott Wilson, the magazine's former Editor In Chief, everyone's perception of the publication has been clouded with the mindset of "they wont survive without him." But with an issue of this stature, it blatantly reminds us of why they're the #1 publication in the business.
Digging deep into the archives, Vanessa Satten and her team of goons wipe the dust off one of hip hop's classic CD's, DMX's freshmen debut, It's Dark and Hell Is Hot. Dissecting the body of work from front to back, Irv Gotti, Swizz Beatz, Sheek Louch, Styles P, Dame Grease, Dee, Waah and DMX trot down memory lane remembering the good and bad times of It's Dark and Hell Is Hot. Check out this excerpt from the feature…
"I played the the 'Ruff Ryders Anthem' beat, and X was like, 'I'm not doing no fu*ckin Rock n Roll beat.' - Swizz Beatz
On the other side of town, Anslem Samuel dug deep into the G-Unit closet of secrets and pulled out a batch of information their core demographic has been dying to know.
Lloyd Banks discussing the lack of visibility during the 50 Cent/Cam'Ron feud:
"I was going through a lot at the time. My pops had just died, like two weeks after Rotten Apple came out. I had a lot of close friends of mine who've passed since I got on, but if you're still in that environment, that's nothing new…but when it happens to your mother or father, it affects you a certain way."
Tony Yayo on the accusations of assaulting Jimmy Henchmen's son:
"Sayin that sh$t was close to child molestation, and everybody had me guilty before they even knew what happened….I didn't smack him! I'm a fu*ckin millionaire, and I got kids myself….I'm aware that, If I smack somebody, I'ma have a lawsuit. So why would I do it??"
Young Buck on the early friction between him and 50 Cent:
"I tried to call him and didn't get no answer. Picture you constantly callin' my phone and I don't pick up. You gonna stop callin right? Then you look up on TV and you see a video, and everybody there but you. Then what?? So you can start adding it on, my dude and then you'll see where I was at the time."
50's take on Lil Wayne's reaction to him calling Wayne a whore:
"I don't dislike Wayne, and I don't want him to interpret it that way. He had the opportunity to jump out the window when I said he's a whore, and he didn't because he's smarter than the other guys."
The new issue of XXL is available at all newsstands and bookstores…I advise you to pick your copy up…NOW!
P.S. Congrats to Datwon on the new EIC position. V.Satten sure as hell did her thing though!
-LowKey
---