Top 10: 10 Reasons Why Bow Wow Isn't Cocky Anymore…..
November 12th, 2008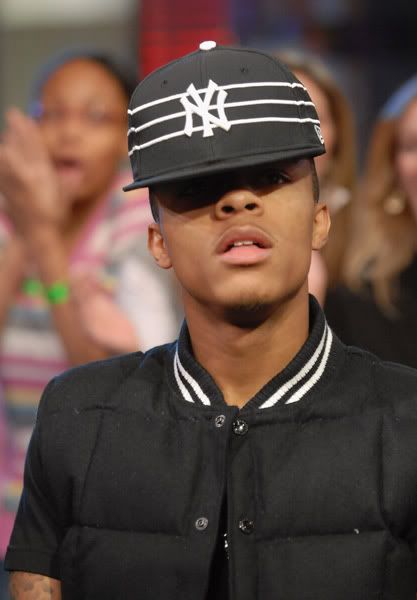 Bow Wow…HUMBLE??? Nahh….Can't be! We all knew from the very first time we laid eyes on this young pup, he would easily develop one of the largest chips to sit on his shoulder once he grew into his fame. From receiving a co-sign at the age of 6 from Snoop Dogg to being crowned "Mr. 106 Park and dating one of the hottest chicks in the game, Bow Weezy would sure enough diddy bop through any city like his doo doo didn't stink, lol.
But as the young pup grew, I'm assuming valuable lesson after valuable lesson finally found a way into his thick skull and assisted in the development of this mature young man we see before us today. Hell, Bow even admitted it in JD's latest "Living The Life" Vlog (Video Blog) entry. "I had the big head" Bow admitted. "Being at that time and at that moment, from the first mishap, I felt that I learned everything from Jermaine. I had the ear for music and I felt like I knew everything".
With that said, I felt like a Top 10 would coincide perfectly with this moment. Without further ado, I present Top 10: 10 Reasons Bow Wow Isn't Cocky Anymore! Oh and remember, these Top 10 lists are ALLL in good fun, so please remove the "LowKey is a hater" notions from your brains, PLEASE?
10. Jermaine Dupri dresses better than him, sometimes?
9. He recorded an album with Omarion……
8. He's too old to posses a Napoleon Complex.
7. He lost the title of "Mr. 106 and Park" to Soulja Boy. OUCH?!
6. Game tapped that ass in Madden Football within 10 minutes…..
5. He realized if he kept popping that fly ish, JD would EASILY find another light skinned kid from Columbus, Ohio to make famous.
4. Once you address bloggers, it's allll down hill after that. And once you address video vixens, it's REALLY downhill after that…..
3. He made a song called "Marco Polo". Playing Peak-A-Boo with Soulja Boy in a pool full of females isn't a good look…..
2. He got caught cheating on Ciara. You can't posses any cockiness after that…..
1. And after he got caught, 50 Cent went and gave her a comforting hug…..with his shirt off….ON TV!
Sincerely
Low "I like this HUMBLE Bow Wow better" Key