Top 10: Ten Reasons Why Jay-Z Doesn't Care For Other Rappers
November 10th, 2008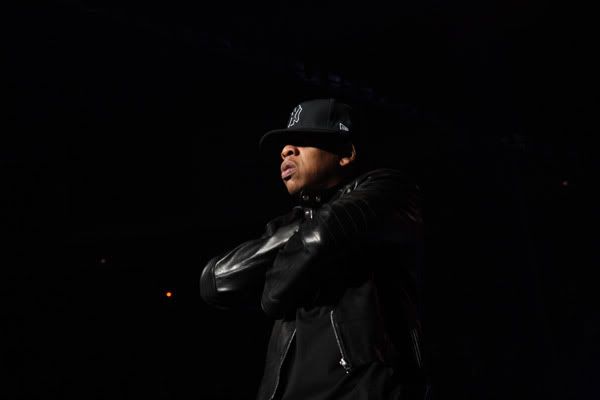 If you married the hottest chick in the game would you care about another rapper? Didn't think so……
Usually when I comb through random internet ramblings, I reserve commentary for the barbershop or a one on one convo with one of my ace boon coons (another name for "homey"). However, a certain post over at Sohh.Com (scroll down to the one about The Game and Jay-Z) peaked my interest, which then sparked me to construct a Top 10 post. Before I proceed, this post is NOT a slap in the face to the writer that composed the piece, it's just my personal take on the subject at hand.
Over the years, I've noticed President Carter doesn't extend his microphone to many. And when he does, it's through former affiliation or employee partnership which leads me to believe Jay really doesn't give a rats ass about the common rapper. Now I know the surface of that comment sounds harsh, but hear me out. When Hov came into the game, he pretty much received the cold shoulder from a lot of people. But of course, as his popularity grew, so did the courtship from other MC's. Aside from Yeezy, T.I., Jeezy, Jadakiss, Ross, Nas (if someone earned me a check, I'd care for them, too), Common and maybe like 2 others, Young Hov could careless about a rapper or if they like his music or personality.
With that said, here are my top 10 reasons as to why Jay-Z Doesn't Care About Other Rappers. ENJOY!
10. His best friend (Memphis Bleek) is his favorite rapper.…..
9. He'll indirectly diss your album title even if you're on the same label as him, lol! "F**k talkin bout the recession, its just depressin" – Jockin Jay-Z (Dope Boy Fresh)
8. Why would he waste his time dissing an American rapper, when he can publically humiliate an international rock star in HIS own city??
7. They'll end up working for him sooner than later……
6. There isn't a chance in HELL he would be caught dead on stage with someone wearing a flannel shirt sporting a lip piercing and a lightning bolt tattooed to their forehead.
5. Anyone running around in circles during a performance for one of my artists would PISS me off, also!
4. You can't care for someone who talks about your grandmother one day, and then hearts you the next…..it's just not possible!
3. You can't care for someone who calls you a f*g one day and then diddy bops to a song he hated since he wasn't asked to be apart of it..I mean seriously!
2. Caring is sharing, and Jay already shares ENOUGH!
1. There comes a point in time where your lady, your blackberry and a bottle of champagne you own are the only things you need in life!
Sincerely
Low "Honestly, If I were Jay, I wouldn't care either" Key