Top 10: The Best Songs In 2008
December 31st, 2008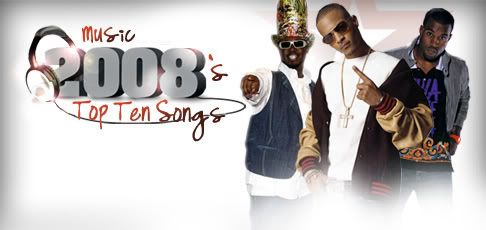 The songs that stayed on repeat in your cars, on the radio and in the clubs!
Lists' like these are always difficult to construct. On one hand, you're attempting to remember every song that was forced down your throat and actually considered "hot". But then, on the other hand, I'm trying to keep in mind that just because I liked that song, doesn't mean the entire universe had to fall in line with my opinion.
Either or, these songs held a significant amount of weight in 2008. Whether it was the impromptu love for the hook, the infectious beat or the illegitimate lyrics that made not 1/3 bit of sense, but you just HAD to recite them, these songs will be known as 2008's Top Tunes. Oh, and if I'm missing any, don't be shy…go head and add them in the comments section. ENJOY
10. T-Pain ft. Lil Wayne- Can't Believe It
This track not only forged a BFF alliance between the two, but it EASILY took over radio DIRECTLY after its release. Soon after, the dread headed twins conceived "Got Money" and their highly anticipated joint Lp, He Raps, He Sings. I can't believe it….no seriously…I CAN'T!
9. T.I.- Whatever You Like (Produced By Jim Jonsin)
"Whatever You Like" did some extraordinary damage on the Billboard charts thanks to a little help from "Lollipop" producer, Jim Jonsin. And thanks to T.I., every tender roni I encounter thinks she can have whatever she likes. Sorry ladies, keep that sentiment to yourself.
8. MIA- Paper Planes (Produced By M.I.A., Diplo and Stitch)
Though 2007 marked it's official crash landing on earth and February 12 marked its official US iTunes release, "Paper Planes" didn't gain official commercial and U.S. acceptance until it's appearance in the movie trailer for "Pineapple Express" back in June. Shortly after, pretty much EVERY rapper and their sidekicks tried their hand at remixing the catchy tune. Oh, did I mention it snatched a Grammy nod for Record of the Year?
7. Alicia Keys- Superwoman (Produced By Alicia Keys)
A song dedicated to EVERY strong female in the world? Hell yeah it's on here as well the list of nominees for the 51st Annual Grammy Awards (Best Female R&B Vocal Performance). I bet you Barack hears this song every time he glances at Michelle…
6. Neyo- Miss Independent (Produced By Stargate)
Neyo gained so many brownie points from the females because of the songs context and he ALSO gained an EXTREME amount of cool points from the fellas because of the bulky amount of eye candy trotting through the visual. It also didn't hurt that he invited Jamie Foxx and Fabolous along for the remix. Only sad thing about this is every female with a debit card thinks she can claim independence….it's ok to ask for help babygirl, we got you.
5. T.I. ft. Kanye West, Jay-Z & Lil Wayne- Swagger Like Us (Produced By Kanye West)
Only reason why this isn't further down on the list is because A.) It was a late bloomer and B.) It wasn't officially pegged as a single from T.I.'s project but played through every club, radio and ipod speaker on God's green earth. Sidebar: Since "Swagger" is a word I sincerely hate right now, A HUGE thank you is in order for Kanye West and MIA.
4. Usher ft. Young Jeezy- Love In This Club (Produced By Polow Da Don)
First time I heard this lil ditty, I was hooked. I even thought Usher was heading in the direction of Confessions, but of course, I was let down to 8th degree. Regardless, Jeezy came correct, Polow did his thing, and Keri Hilson will FOREVER be my mistress of choice…sorry future Mrs. LowKey!
3. Beyonce- Single Ladies (Produced By Tricky Stewart)
It's an amazing sight to witness when you're standing by the bar, the first 12 seconds of this record comes on and you see EVERY female (Bartenders, waitresses, female janitors and female security guards included) go APE sh*t, gyrating in every way possible known to mankind. True story, I once saw a married woman secretly take off her wedding ring for 3:13 JUST to call herself a single lady and then put it back on as if the song never existed. DAMN YOU, BEYONCE
2 . Young Jeezy ft. Kanye West- Put On (Produced By Drumma Boy)
Everyone…and I mean EVERYONE (yup, even her) thought they were from Atlanta when Jeezy unleashed this massive hit to the public. It gave you the sense of urgency to rep WHEREVER you were from (yup, even her again) whenever this song tickled your ear drum. This was also the first time we heard Kanye exercise his right on T-Pain's golden apparatus. I PUTTTTTTTT ONNNNNNNNNNN!
1. Lil Wayne- A Milli (Produced By Bangladesh)
1. Lil Wayne- Lollipop (Produced By Jim Jonsin)
Really…..do I NEED to explain myself on either of these?????
Sincerely
Low "At least ONE of these songs gets some kind of burn in my day to day operations" Key