Top 10: The Worst Music Moments of 2008
December 30th, 2008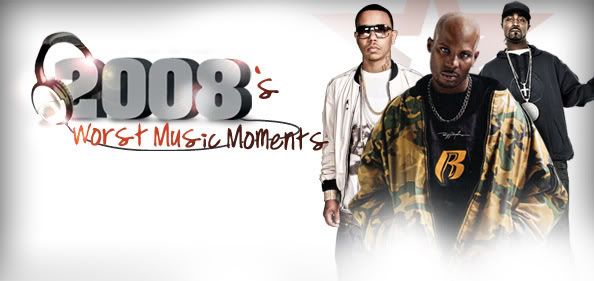 Without them, this list wouldn't be possible! I hate pointing out the negative things in a person or issue, however, I have no problem pointing out the absurd and obvious.
2008 was by far one of our most troublesome 365 days experienced in a long time. The economy was side swiped, houses we're being snatched left and right and employment…well you already know the verdict in that lane.
Since we're about 48 hours and one second left until 2009 relieves us of this treacherous year and I thought it would be dope to compile a list of the Ten Worst Music Moments in 2008.
I might have missed one or two, but this is a list I THOUGHT of so if you disagree, hit that comments section and spill the beans on a moment that should've made the list. ENJOY!
10. Angel Lola
Winning Eye Candy of the Year in 2007 does NOT grant you the right to rap. Act, start a business, go back to school……DO NOT RAP. Its bad enough we don't believe your ASSets are real but what makes you think we're going to believe you have the ability to write a decent verse? Sorry sweetie….NEXT!
http://candykoatedsuga.blogspot.com/2008/12/angel-lola-luv-serious-about-rapping.html
9. Anything DMX Related
I don't know what's worse; DMX releasing a hip hop/gospel album, being arrested 556653653 times in 6 months or being detained at Scott Storch's residence? Well, at least he didn't shoot a sequel for Cradle to the Grave.
http://blogs.bet.com/music/soundOff/gee-what-a-coincidence/
8. Brawling @ The 2008 Ozone Awards
Seriously, did we really need to see Trae and Mike Jones duke it out backstage? That's like watching two trophy girls duke it out to see who presents Shawty Lo the Ringtone of the Year Award; NO ONE CARES!
http://www.bet.com/Music/News/musicnews_jonestalksozone_08.13.08.htm
7. Soulja Boy Vs. Ice T
How in the hell can someone making so much GUAP on a show that airs on NBC give a rat's ass about a kid who once had a chain made STRICTLY out of rubber bands? Not only that, but the OG prompted SBeezy and his goons-in-training to make a 10 minute vlog (video blog) about how old Ice-T is….*DEAD*.
http://blogs.bet.com/music/soundOff/soulja-boy-vs-ice-t/
6. Brawling @ The Dirty Awards
T.I.+ Shawty Lo + Alfamega + Disgruntled Shawty Lo employees + absurd award show title= Foolery to the 15th degree. Lesson learned: Wait until T.I.'s incarcerated to invite Shawty Lo to an awards ceremony.
http://www.bet.com/Music/News/musicnews_tiandshawtylofight_11.25.08.htm
5. Usher's, Here I Stand
Dear Usher, We're extremely elated you found marital bliss. We're even happier you now have a tribe of lil Ursher's running around the palace, but PLEASE, spare us your happiness. Remember that thing called Confessions; I think it sold about 10 MILLION EFFIN COPIES? Well, we want that. So, cheat on Tameka, reveal your love child with Chilli and tell Chris Brown he'll never be as good as you. Patiently Waiting, LowKey
http://blogs.bet.com/music/soundOff/usher-making-a-return-but-is-it-tooooo-late/
4. Auto Tune
I can't fault T-Pain for sensationalizing the device; it made him enormously famous. But Ron Browz, Baby, Yung Berg, Baby, Lil Wayne, Shawty Lo, The Dream, R.Kelly, Usher, Swizz Beatz, Ludacris, 50 Cent, Snoop Dogg and whoever thought it would be a good idea, WHAT HAS IT DONE FOR YOU???? (Is it bad I'm writing this entry in Auto-Tune?).
http://blogs.bet.com/music/soundOff/t-pain-retiring-auto-tune/
3. Kanye and Don C Pouncing On The Paparazzi
I'm assuming Mr. West was just having a bad day. I mean why else would he be wearing a hoody in a PUBLIC airport with his head down signaling the photographer NOT to snap his picture? What's even more hilarious is the media pegged Don C as Kanye's security, when clearly, the photographer was bigger than him.
http://blogs.bet.com/music/soundOff/kanye-hates-flashing-lights/
2. Yung Berg's Physical Altercations
Aside from selling a petite 19,000 albums in seven days, the Chicago native caught the hand of god, TWICE, for aiming disrespectful banter towards Maino and Detroit rappers AND got relieved of some pricey merchandise…that's DEFINITLEY not sexy (pause).
http://blogs.bet.com/music/soundOff/oh-young-berg/
1. Young Buck Crying To 50 Cent
Really, crying though, homey? He went from being the toughest solider in the click to needing a blanky after a shot of Hennessey. Every man should be granted an occasional occurrence of letting the tears run, but homey should've known better to do it over the phone. Dah well, it only cost him his career, dignity and any tough talking in the near future.
http://blogs.bet.com/music/soundOff/you-brought-it-on-yourself/
Honorable Mention
1. Busta Ryhmes', "Arab Money"
2. T.I. going to jail again.
3. Mariah Carey and Nick Cannon getting married.
4. The Game.
5. WorldStarHipHop.
6. K-Ci and Jo Jo's infamous concert incident.
7. DJ Khaled terminology
8. Damn it Beyonce, I was trying to keep you off this list, but you HAD to go and say THIS!
Sincerely
Low "2009, YOU BETTER NOT LET ME DOWN!" Key