Usher Making A Return, But Is It Tooooo Late?
November 9th, 2008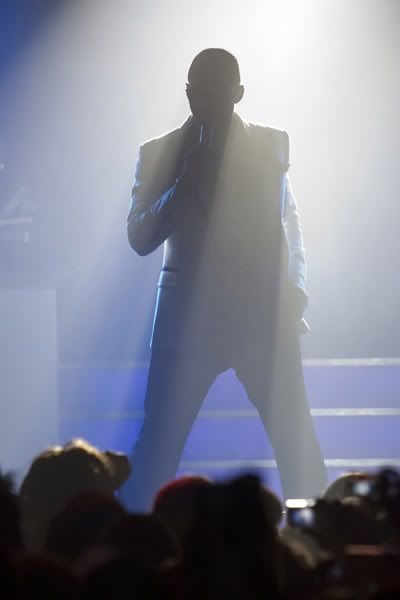 Usher already making a return???? Yes He Is…….
I'm assuming Mr. Raymond has officially received the memo that Here I Stand just wasn't the Usher we were all used to. Not to say HIS was a flop(creatively it wasn't, number wise it might have been), but Confessions made HIS look like an under produced mixtape, to say the least.
Not only that, but it seems like with this new tour he's embarking on, he's attemtpting to regain the ambiance that made every female fall in love with him in the first place. It's not that we find his marriage life boring, but if we wanted to hear about marital bliss…..matter fact, yes we do, we find it insanely boring (sorry, dude).
With a new project hitting retail at the top of '09, Usher might be able to reclaim that top R&B slot since it's pretty vacant right now. And to top it off, he's snatching R&B's other top gunner, Neyo, to "potentially" construct the new set. "Neyo is actually potentially gonna be a part of this project," he revealed. "On the last one we didn't work together until the very end — hopefully we are gonna try and get together early", Usher revealed to MTV.com
Neyo, who was probably the only one too keep it funky about how much HIS tanked, had this to say about the married singer and his new project, "Well, I was one of the first people to tell Usher, personally, that I didn't think he was focused on the album … on Here I Stand," Ne-Yo explained. "I don't think his focus was in the right place. And I'm a dude, and that's my personal opinion and I'm entitled to it, and he respected that I kept it real with him about that. I think that this time around … It's not so much that I think Here I Stand was a bad record, it just wasn't the Usher that we remembered. I mean, that joint [Confessions] right there went 10-15 million worldwide, so it was going to be difficult to come back from that anyway. So I just think he's gotta get back to what he knows, which is to get out there and make 'em dance — entertain them at the end of the day. 
Is it toooo late for Usher to regain that "SEXY TIME" momentum or is R&B so boring, the consumer has no choice??? Who knows, but what I can proivde you with is a new Usher track rumored to be produced by T-Pain and his interview with Angie Martinez on Hot 97 where he addresses the provocative "Trading Places" clip, his wife's reactions and his rapidly growing family.
Usher- At The Time |Produced By T-Pain|
Usher chops it up with Angie Martinez on HOT 97
Sincerely
Low "Let em have it this time around, Usher" Key