Yung Joc & Lil Kim?!?
July 20th, 2008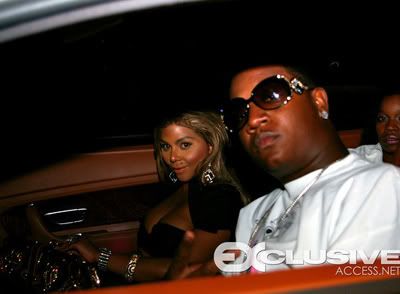 Well look at what we have here…Yung Joc and Lil Kim riding shotgun together looking all cute and comfortable together lol. Now I'm not saying that they're an item of any sort, HOWEVER, word around town is the two were seen arriving at Lil Kim's BDay bash in Charlotte, NC together, spent the entire night alongside of each other and of course, left together.
Now I'm not your typical celebrity bashing blogger like Sandra Rose and the rest of em, but I just thought I take a jab at the rumor mill lane and throw this picture up for sh*ts and giggles.
Do you guys think these two would make a cute couple??? Hell if I care, Lil Kim lost her looks the day she paid cash or credit for the lypo surgery. Ight, I'm done….lol. Thanks to MissInfo for the alley-oop….
Sincerely
Low "Yea, this is the last "cute couple" post you'll ever see on this page" Key